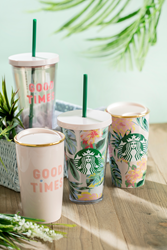 Los Angeles, CA (PRWEB) May 10, 2017
ban.do and… Starbucks®?! Is this real life?! Oh yeah! The Los Angeles lifestyle brand that's serious about fun has partnered with the coffee giant to release the BAN.DO x STARBUCKS collection, a limited edition 10-piece assortment of drinkware and accessories. It's exclusive to Starbucks®, packed with feel-good vibes, and is the perfect blend of both brands' DNA.
The co-branded collection, which launches May 16th 2017, will only be for sale in Starbucks® stores in Asia. It gives international fans of ban.do a unique experience and is another huge step forward in the brand's growing global presence. Designs include a colorful hand-painted floral, the phrase "good times", and a retro-inspired stripe. The brand cites LA culture, beach umbrellas, lounging by a pool, and anything tropical as their inspiration.
"All the designs were based off of the idea that we'd bring a little slice of LA sunshine and fun to the other side of the world," said Jen Gotch, Founder and Chief Creative Officer of ban.do. "We wanted to give our international fans—both old and new—something really special that they couldn't get anywhere else."
The partnership was a natural progression for the rapidly growing brand, who currently has a presence in 3,000+ stores in the United States and 50 countries total. And, as the brands started working together, they realized that they had a lot in common.
"Togetherness is really important at ban.do," said Gotch. "And it's something we felt totally aligned with Starbucks® plus, we're both super passionate about our products —down to the last detail."
The collection will launch in select Starbucks® locations throughout Australia, Singapore, Thailand, Hong Kong, Cambodia, Taiwan, South Korea, and China. Products include Starbucks® signature cold cups, double-walled travelers and ban.do core products; notebooks, totes, luggage tags, passport holders, pencil pouches, and drink coasters. A second capsule collection will launch in July 2017.
To celebrate the launch of this collaboration, ban.do will be hosting a giveaway for all of their loyal fans in the US. Visit bando.com/Starbucksgiveaway beginning May 16 for more details.
about ban.do
Founded in 2008, ban.do is a lifestyle brand based in sunny Los Angeles that designs clothes, accessories, bags, stationery, gifts, and tech. Their products can be found globally in over 3,000 department stores and boutiques, as well as online at bando.com. They're inspired by self-expression, the power of friendship, and all things FUN.