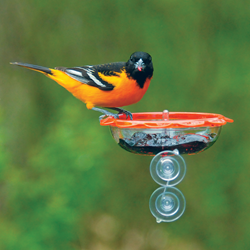 Satisfying their sweet-beak with the treats they crave will encourage frequent visits from Orioles and other fruit-loving birds.
Plainfield, Connecticut (PRWEB) May 10, 2017
Droll Yankees just introduced BO's Marmalade Oriole Feeders, in hanging and window mount models, to their world-class lineup of bird feeders and birding accessories. Proudly made in the USA of durable UV stabilized polycarbonate and stainless steel, these feeders are perfect for offering sweet treats to attract fruit-loving Orioles, Mockingbirds, Tanagers, and more. Backyard birders simply add a fruity splash of jelly, a juicy orange half, or a handful of protein packed mealworms to enjoy colorful Orioles like never before.
Migrant Orioles are fairly common in summer months, yet they tend to spend their time just out of sight in the tops of trees rather than on the ground level at an observable height. Like searching for gold hidden at the end of a rainbow, ever present yet just out of reach, backyard birders are always seeking new ways to attract these often elusive Orioles and their beautiful golden colors.
Now BO's Marmalade Oriole Feeders make attracting and observing Orioles easier than ever. The window mounted feeder (BO-WM) rests on a stainless steel wire secured with 2 sturdy suction cups to bring birds up-close, while the hanging version (BO-HM) floats on a graceful stainless steel wire that can hang from a tree, pole or window hook for unlimited placement options. The vibrant orange polycarbonate collar complements the naturally striking coloration of Orioles and orange halves. The sleek design will instantly connect with birding beginners and advanced birders seeking to attract these extraordinarily popular backyard birds.
Satisfying their sweet-beak with the treats they crave will encourage frequent visits from Orioles and other fruit-loving birds. The BO's clear polycarbonate dish has a 5 oz. capacity designed for a variety of bird food types, an innate versatility sure to make these feeders attractive to birds and birders alike. Perfect for half an orange, a dollop of jelly, mealworms or suet chunks, the dish removes easily from the wire for effortless cleaning and filling. When not hosting colorful Orioles, this bright little feeder will be a favorite attraction for Chickadees, Bluebirds, Woodpeckers and other mealworm-loving birds.
The low-profile saucer style feeder offers an unobstructed view of the birds, giving backyard birders the opportunity for unparalleled observation of Orioles, Mockingbirds, Tanagers, and more. Birds grip the petal rim or hanger wire while feeding from these attractive little feeders. The BO's highly durable and impact resistant polycarbonate construction ensures years of reliable bird feeding.
Their durable design and practical performance give BO's Marmalade Oriole Feeders the value generations of birding enthusiasts have come to expect from Droll Yankees, makers of The World's Best Bird Feeders® since 1969. The feeders carry a warranty against defects and are proudly made in the USA for years of Oriole feeding fun. To purchase a BO's Marmalade Hanging or Window Oriole Feeder, stop by a local Droll Yankees retailer or visit DrollYankees.com.
###
Visit http://www.drollyankees.com to learn more about feeding birds and to purchase bird feeding products.
In 1969, Droll Yankees started a bird feeding revolution with Model A-6F, the first tubular bird feeder. Since then, Droll Yankees has built on that success, continually developing innovative approaches to bird feeding that benefit both the birds and Droll Yankees customers. Generations of bird lovers have appreciated Droll Yankees' quality construction, functional simplicity, and commitment to American workers. Droll Yankees offers a Lifetime Warranty against squirrel damage and will replace any squirrel-damaged or defective parts, free of charge. To learn more about Droll Yankees' products, visit http://www.drollyankees.com. Just Feed Birds® and Make a World of Difference.