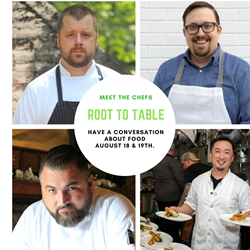 6 Chefs and one Kitchen
Winchester, Virginia (PRWEB) August 15, 2017
There is a lot that makes this culinary event special:

Executive chefs sharing the same kitchen
Competitive business owners sharing conversation over food
Food lovers have a one to one foodie conversation with the best chefs in the region about taking food products grown locally
Traditional and new cuisine recipes using food from our backyards.
What is behind competitive chefs and restaurant owners forming a community to talk about their passion for great quality food made from the best products available here in the USA?
The best answer to the question is to ask the Chefs -
Chef Steve Ferrell – Executive Chef at Hillbrook Inn and Spa, Charles Town, West Virginia. Chef Steve has just joined the Redbook Restaurant at Hillbrook Inn and Spa the first of August.
"I am a hard working individual with a strong sense of pride in food that I create and in the kitchen teams I have developed. I respect classic techniques and fundamentals but believe in always pushing the envelope by challenging myself to improve."
Chef Erik Foxx – Nettnin– Executive Chef at Magnolias at the Mill, Purcellville, Virginia
"The idea of cooking with and for new people is exciting. Hillbrook is a beautiful place. The atmosphere promises to enhance every course. I very much look forward to weaving more threads into the fabric of our culinary partnership. Both by introducing chefs to local producers, and enjoying our love of cooking for people together."
Chef John Lawrence - Executive Chef at George's Food and Spirits, Winchester, Virginia. John has a passion for oysters and will be serving Virginia grown oysters at this event. Why oysters?
"I would start with simplicity, the basic shucked oyster stands by itself. Everything you wanted to know about it is sitting in that shell. Salinity, metallic, sweet and earthy is revealed in one simple little package."
Chef Lawrence Kocurek - Executive chef at Ayrshire Farms and Gentle Harvest, Upperville, Virginia.
Sandy Lerner, who manages Ayrshire Farm and Gentle Harvest. Featured in WSJ. Money magazine, Lerner emphasizes the importance of keeping agricultural heritage in America. "This means that everything is organic, local, and non-GMO – and that's certainly something to brag about!"
Chef Ming Chan – Owner of Eat First Group and Chinatown Winchester, Virginia
"Vietnam cuisine is one of the best examples of cultures (French and Asian) blending beautifully and the use of herbs and local products. My theme for this opening Root to Table event will be 'summer in Saigon' featuring light tapas of lettuce wraps, pork and herbs from the garden.
Representing the owners of food establishments will be Susan Dolinar and Jeremy Throckmorton.
Susan Dolinar – Owner of Nibblins of Rutherford Crossing. When asked – why tarts?
"I like doing things in a tart shape; it's just kind of my signature! It's an easy pan to get it in and out of, as opposed to a pie that you usually put in an aluminum pan, which means they're then going to be thrown away… I mean I'm not a super ecological person, but I do have an adverse reaction to creating too much trash."
Jeremy Throckmorton – Co-owner of Throx Market, Winchester, Virginia.
"It is going to be fun to cook next to chefs even though we do not consider ourselves to be chefs just good cooks. Most people think of us as a convenience store My family has been cooking for generations. 90% of the food menu in our stores is made in house from our family recipes."
Taste of Blue Ridge is a community of owners, chefs, farmers and food retailers who are dedicated to serving the highest quality level of food using the best resources available.
"The community's mission is to educate the consumer on how to take products from their farmer markets and backyard gardens hence "root origin" and turn them into award winning dishes and beverage cocktails," said Nancy Craun, Owner and Founder of Taste of Blue Ridge.
"On the whole, I think it'll be interesting to see different chefs get together and create a meal!" said Dolinar of Nibblins.
Plan to attend the cocktail party with tapas on Friday, August 18th or the full five -course dinner on Saturday, August 19th. Buy tickets at [tasteofblueridge.eventbrite.com.
About TasteofBlueRidge.com
Launched in April 2016, Taste of Blue Ridge, is a website promotion foodie experiences. With a mission to bring the best quality food to the valley supporting local farms in the United States. Taste of Blue Ridge with its marketing community partners are the recipient of a $25,000 tourism marketing leveraging grant – Blue Ridge Root to Table.
Contact: Nancy Craun Founder and Owner
Phone: 540.533.1853
Email: brb(at)BlueRidgeBride(dot)com