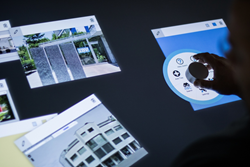 The world is really changing. Software and hardware are reaching a whole new level, and as a consequence, over the next few years the way we work together will completely change. (Andreas Görög, CEO - IBV Informatik AG)
Zurich, Switzerland (PRWEB) February 19, 2017
February 2017 – Leveraging its expertise in business application development, IBV just released a new version of CollaBoard, its real-time collaborative app. The new release brings full Surface Studio, Surface Dial, QR Code and NFC support in combination with a redesign and 50% faster loading times for New Projects.
CollaBoard is a collaborative application for Microsoft Surface Hub, Surface Studio and Windows 10 devices allowing professionals and teams to work together in real time from different locations. First launched in November 2016, it features a natural user interface (NUI) with inking, touch and voice commands for an easy and intuitive user experience, and it includes Skype for Business integration for simultaneous conference calls.
CollaBoard is the only virtual workspace offering voice commands and real-time capabilities on a complete range of features, not just sticky notes. Its latest version also makes it the only collaborative NUI app offering Surface Studio and Surface Dial support.
CollaBoard provides a real-time virtual workspace allowing professionals and teams across all industries to work together more efficiently. Its easy-to-use, immersive interface enables highly engaging meetings. The app, available on the Windows Store, also makes for an essential tool in concept work and sales presentations.
About IBV Informatik AG
IBV is a Software Development and Consultancy firm based in Zurich and Berlin. Founded in 1981, it specializes in developing business applications for Windows 10, Surface Hub and the HoloLens. IBV develops state-of-the-art, customized solutions and applications tailored to modern business needs that work across all devices using voice, inking and touch commands for natural interactions. With its 35 years of experience and the expertise of its award-winning developers, IBV is here to make every vision a reality. For more information, please visit our website.