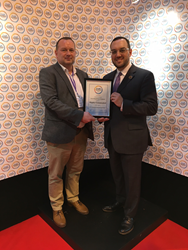 MANHATTAN, NY (PRWEB) May 16, 2017
Lion Brand Yarn Company (http://www.LionBrand.com) is proud to announce they have won the Highly Commended award in Craft Business Magazine's "Best European/International Brand" category. The award is based on online voting, allowing consumers to vote for their favorite companies in various categories in the craft industry.
Craft Business Magazine, based out of the UK, is the largest circulated magazine for the craft industry. Every year, the magazine's Craft Business Awards are given to companies for their excellent service and innovation in the crafting industry. These awards are highly valued since they are entirely voted on by those who count most: the consumer. It is an honor to be recognized within the industry and Lion Brand is delighted to have been chosen a customer favorite. The company vows to keep providing superior products and support to all of their customers, both international and domestic.
Evan Blumenthal, who accepted the award on behalf of Lion Brand Yarn stated, "We are very grateful and appreciative of receiving the award in the Best European/International Brand category. It helps us continue our mission to 'Create a more colorful, connected and giving world."
About Lion Brand Yarn Company
Founded in New York City, Lion Brand Yarn Company is a 139 year-old brand. It has been owned and operated by the Blumenthal family for 5 generations. Throughout its history, Lion Brand has been at the forefront of yarn trends while consistently providing its customers with the finest quality products at popular prices.