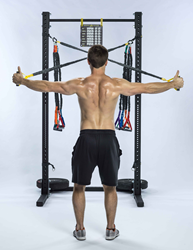 Denver, CO (PRWEB) August 02, 2017
Crossover Symmetry, an evidence based shoulder health and performance system, has partnered with Team AMPD, the world's #1 Golf Fitness Company to bring better shoulder health to golfers of all levels, from amateurs to professionals, through education and medically designed high performance equipment. Simple, portable and only taking 5 minutes per day, Crossover Symmetry Golf Programs are exercises designed to mirror the functional patterning of sport specific movements, such as the golf swing, to correct muscular imbalances. For this particular AMPD Golf Package, Damon Goddard, Co-Founder and Chairman of Team AMPD and strength coach to Jordan Spieth, worked with Crossover Symmetry to develop a hip, core and shoulder matrix series of exercises that generate mobility and are essential to delivering speed and power to the club head during a golf swing.
"When examining golfers' weaknesses, we noticed that the 'head down, slouched shoulders' position caused by modern life, computer hunching, and staring at smart phones was negatively impacting golfers' scores and potentially causing neck and shoulder pain," said Duggan Moran, Founder of Crossover Symmetry. "When a golfer swings a club, the stabilizing muscles of the rotator cuff and shoulder blade are vital to transferring energy from the legs and torso down to the club head. However, rounded shoulders caused by poor mobility, muscular imbalances, and inhibited scap stabilizers create weak and inefficient swing characteristics.The marriage of the Crossover Symmetry system with AMPD's unparalleled golf knowledge and experience has allowed us to answer golfers' age old calls to eliminate shoulder pain and improve their scores."
With over 18 years of experience in the sports performance and fitness industry, Team AMPD works with all levels of golfers to help them reduce their risk of injury and optimize their performance. From avid golfers to PGA professionals, including Jordan Spieth the newly crowned champion of the 146th Major Championship at Royal Birkdale, AMPD has helped a wide range of athletes improve their game through fitness and strength. Goddard has played an instrumental role in developing the Crossover Symmetry AMPD Golf System. The program includes a hip matrix and core matrix that should each be completed 1-2x per week. Each matrix consists of 5 exercises and can be completed in less than 10 minutes. For a quick and effective pre-round warm up, golfers will also have access to a simple and fast warm up routine to get the body ready to play.
"After testing the Crossover Symmetry bands for a few months, I immediately recognized the results that the high quality bands and medically designed programs had on improving mobility, stability and the overall game of golf," said Goddard. "Implementing Crossover Symmetry into the training programs across all golfers, from top touring professionals to novices was a no brainer for us."
Goddard integrated Crossover Symmetry into his golfers' shoulder health training components for functional movement exercises. For example, Spieth uses a shoulder activation matrix to increase stability in the shoulder blade, improve range of motion and external rotation, and build better overall shoulder health. Watch Goddard demonstrate this one the Golf Channel's Fitness Friday segment.
For more information on Crossover Symmetry, visit http://www.crossoversymmetry.com and connect via Instagram, Twitter, Facebook, and YouTube. The specific Crossover Symmetry/AMPD Golf Fitness Package can be purchased at: https://crossoversymmetry.com/product/ampd-golf-fitness-package/ref/ampd/
About Crossover Symmetry:
Crossover Symmetry is an evidence based shoulder health and performance system, developed by top sports physical therapists, athletes and coaches. The programs are designed to facilitate safe and efficient shoulder mechanics in order to eliminate pain, reduce the risk of injury and optimize performance.Unlike traditional rehab exercises, the Crossover Symmetry exercises are designed to mirror the functional patterning of sport specific movements. They target common deficiencies and muscle imbalances to improve the neuromuscular coordination thereby enhancing athletic performance.
http://crossoversymmetry.com
About Team AMPD:
AMPD Golf Fitness is a result of over 10 years of dedication and experience of developing golfers into athletes all under the direction of Damon Goddard, Co-Founder & Chairman. They provide a program for golf-athletes of all ages and abilities to optimize their game by increasing performance and reducing the risk for injury. Over the years they have produced two US Amateur Champions, Fed Ex Champions, three Major Champions and multiple winners on the PGA, LPGA, Web.com Tour. Their athletes' success stories go far beyond professional golfers and they help all levels of golfers feel better, play better, and unleash their potential. Team AMPD will continue to strive to be the standard bearer for the golf fitness industry.
http://ampdgolffitness.com/