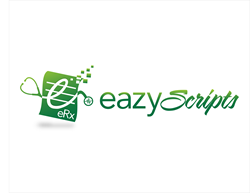 eazyScripts allows physicians to submit an electronic prescription in 25 seconds or less.
Chicago, Il (PRWEB) May 08, 2017
eazyScripts, an electronic prescription platform, announces new CEO Reed Liggin. Reed is a Pharmacist with over 20 years of experience in the HIT industry
Reed Liggin, was President and CEO of RazorInsights, the industry's first single-database, SaaS complete hospital information system. In January 2015, RazorInsights was acquired by athenahealth and Reed served as Vice President of Hospital Sales until April 2017. Prior to the startup of RazorInsights, he served as Vice President of Sales for AssistMed. After leaving full-time pharmacy practice in 1997, he joined startup DocPlanet.com as Vice President of Sales-East Region. While at DocPlanet.com, he was part of a team that developed one of the industry's first ePrescribing systems. During his career, he has served in sales and sales management roles for McKesson, Purkinje, and Allscripts in both the acute and ambulatory care markets. Additionally, he served as the Director of ePrescribing at McKesson and its RelayHealth subsidiary, and has spoken on the topic at several industry events nationwide. He holds a B.A. in Biology from the University of West Georgia, a B.S. in Pharmacy from the University of Georgia, and a M.B.A. from the University of Massachusetts-Amherst.
"Electronic health records are becoming the norm and ePrescribing is gaining traction due to access to doctors at your fingertips through telehealth. eazyScripts allows doctors to send a script in 25 seconds or less, and this is crucial for telehealth organizations. Medication history is another vital part of managing patients and their care plans, and doctors need access," said Mr. Liggin.
"We've selected a very strong leader at a time when eazyScripts is in a very strong position. We is pleased to be able to bring on an industry expert in ePrescribing and grow our team. We are growing at a very fast pace and Reed joins us at a very opportune time," said Dr. Occomy, Co-founder of eazyScripts.
For more information, visit: http://www.eazyscripts.com/
About eazyScripts
The eazyScripts software provides telemedicine providers with the ability to submit electronic prescriptions, check prescription fill data, formulary, secure electronic prior authorization at the touch of a button, reducing inefficiencies and errors. eazyScripts offers medication adherence options which has increased patient satisfaction. Providers can now send an electronic prescription in 25 seconds or less, allowing physicians to put a greater focus on patient health outcomes.
Media Contact
Company Name: eazyScripts
Contact Person: Ms. Gulé Sheikh
Email: gule(at)eazyscripts.com
Phone: (312) 860-7440
City: Chicago
State: IL
Country: United States
Website: http://www.eazyscripts.com/