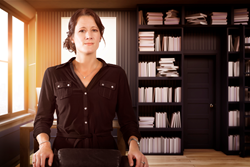 Dashboards are nice. Meaningful data is essential.
Fort Collins, CO (PRWEB) October 10, 2017
Dr. Emily Richardson, Encompass' Chief Quality Officer, will speak and inspire medical professionals at the 2017 American Society of Anesthesiologists' Annual Meeting in Boston Massachusetts, October 21-25.
Dr. Richardson is nationally-recognized for her expertise in quality reporting programs and Qualified Clinical Data Registries (QCDRs). Dr. Richardson serves as Co-Chair of the Physician Consortium for Performance Improvement's National Quality Registry Network (NQRN) QCDR Committee and is a member of the PCPI NQRN Steering Committee. Dr. Richardson is also an active member of the American Society of Anesthesiologists (ASA). She sits on multiple ASA committees, including the Core Measure Development Group, the Committee on Quality Management and Departmental Affairs (QMDA), and the Ad Hoc Committee on Data Definitions.
Dr. Richardson's innovative approach for enhancing quality reporting methods transforms complex processes into strategies that ultimately help medical professionals move beyond their goals for CMS' Quality Payment Program (QPP). Federal reporting programs form the backbone of quality improvement programs, enabling providers to concentrate on providing the best care to their patients.
In Boston, Dr. Richardson will join industry leaders to discuss the Merit-Based Incentive Payment System and federal quality reporting processes. During her presentation, "Catch and Release: Data, Metrics Reporting, and AQI Recommendations," she will discuss quality measures applicable to anesthesia practice as well as barriers to accurate data collection and reporting. Dr. Richardson will also contribute to the seminar "How to Leverage NACOR for Practice and Quality Improvement", where she will discuss the role of QCDRs in MIPS.
Take the opportunity to meet one-on-one with Dr. Richardson at Booth #2338 and discuss your MACRA/MIPS and quality reporting questions.
We look forward to seeing you there!
We "Simplify the business of medicine so that our clients can deliver the best care possible."
Encompass is a medical management company serving the healthcare industry by providing customized services in IT, revenue cycle management, clinical quality management, credentialing, payer contract and payer enrollment, and human resources.