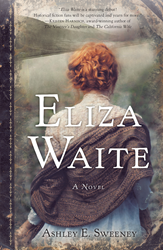 "Eliza Waite is a lively and compelling narrative of one woman's quest to navigate the social turmoil of the late 19th century Pacific Northwest." —Polly M. Myers, University of Washington History Department
Berkeley, California (PRWEB) August 07, 2017
She Writes Press author Ashley Sweeney has received the 2017 Nancy Pearl Book Award for Best Book (Genre) from the Pacific Northwest Writers Association for her novel, Eliza Waite.
Created in 2014, the Nancy Pearl Book Award honors recently PNWA published authors. Former winners include Kelli Estes (The Girl Who Wrote in Silk), Carla Norton (What Doesn't Kill Her), Jennifer Murphy (I Love You More), and Robert Dugoni (My Sister's Grave). The 2017 Nancy Pearl Book Award for Best Book (Mainstream) was awarded to Lori Tobias for her novel, Wander.
Set in the late 1890s in Washington and Alaska, Eliza Waite chronicles the life of a disenfranchised widow who joins the throng of miners, fortune hunters, business owners, con men, and prostitutes traveling north to the Klondike to make their fortunes during the Klondike Gold Rush.
Sweeney discovered an abandoned cabin on largely uninhabited Cypress Island in Washington's San Juan Islands in the fall of 2008; that finding led to the idea for the novel. She spent six years researching, including making two trips to Alaska.
Sweeney is a graduate of Wheaton College in Norton, Mass., the Stanford Publishing Course, and City University of Seattle. She spent decades as a newspaper columnist and teacher in Washington State. In addition to the Nancy Pearl Award, Eliza Waite has also been named a finalist for the Sarton Women's Book Award, the International Book Award, and the Best Book Award.
For more information about Ashley Sweeney, visit her website at ashleyesweeney.com, or contact She Writes Press at shewritespress.com.