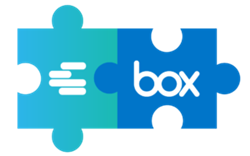 "Box Skills provides an innovative framework with leading cloud technology solutions such as Ephesoft," stated Jeetu Patel, Chief Product Officer of Box.
San Francisco, California (PRWEB) October 11, 2017
Ephesoft, Inc., the industry leading developer of document capture and analytics solutions that extract meaning from unstructured content, today announced that Ephesoft Transact is available as part of Box Skills, unveiled today at BoxWorks 2017. As a Box Technology Partner, Ephesoft integrates with Box's platform to enable advanced document capture and analytics functionality, providing customers with the industry's first pure cloud-based content onboarding solution.
"As a Box Technology Partner, we have similar goals of helping customers through their digital transformation by revolutionizing document and content cloud services. Box Skills shows us that Capture-as-a-Service has gained traction in the market and will lead future business practices," said Ike Kavas, CTO of Ephesoft.
Box Skills is a framework for applying state-of-the-art artificial intelligence and machine learning tools, such as Ephesoft Transact, for content stored in Box. With Box Skills, enterprises will be able to uncover insights and automate business processes that have traditionally been too costly or impractical to digitize.
"Box Skills provides an innovative framework with leading cloud technology solutions such as Ephesoft," stated Jeetu Patel, Chief Product Officer of Box. "As enterprises continue to modernize their business processes, the ability to intelligently capture, classify and extract data from customers at scale for high value documents is essential."
Ephesoft Transact is an onramp for adding documents to Box through a variety of ways: scanners, MFPs/Copiers, network folders, emails, mobile and legacy ECM systems. Transact employs multiple data and character recognition engines for Box. Once documents are imported, they pass through a patented machine-learning engine with analytics, they are classified and extracted. The extracted data is exported and mapped to Box metadata fields for easy retrieval and use. Through patented machine learning algorithms, models can be built to not only classify documents and extract data, but also to visualize, correlate and create a data map for documents within Box. Ephesoft's Insight platform can access Box data using advanced enterprise document analytics and business intelligence tools to further uncover hidden data, detect trends and minimize risks.
Ephesoft Transact for Box Skills is now available directly from Ephesoft and through a global network of solution partners. Further information on the Box Skills integration is available on the Ephesoft website.
About Ephesoft, Inc.
Ephesoft, Inc. delivers intelligent capture technology on a private or public cloud platform that extracts meaning from unstructured content. With a focus on efficiency and reliability, Ephesoft has crafted the next generation of intelligent document capture technology that allows organizations to automate and streamline mailroom processing and other document-based business processes. Ephesoft is headquartered in Laguna Hills, California, with regional offices throughout the US, EMEA and Asia Pacific. The company is undergoing rapid growth and has customers in over 30 countries. To learn more, visit ephesoft.com.