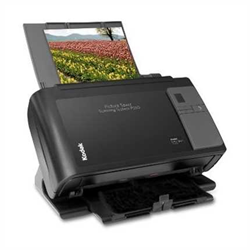 "Customers have long asked for just a single, high-speed Kodak Picture Saver scanner," says Richard "Rick" Lippert, president, E-Z Photo Scan. "
Altamonte Springs, Fla (PRWEB) April 11, 2017
E-Z Photo Scan, the leading marketer of desktop photo-scanning systems, announced the award-winning Kodak photo scanner is now be available in a single model, the Kodak Picture Saver PS80 Scanning System. The other model in the series, the Kodak Picture Saver PS50 Scanning System, is no longer in production. The primary difference between the two devices is speed. The Kodak Picture Saver Scanner PS80 can scan 85 4x6 prints per minute, compared to 50 for the PS 50. At a speed of more than 5,000 prints an hour, there is no more faster photo scanner in the professional-grade category.
"Customers have long asked for just a single, high-speed Kodak Picture Saver scanner," says Richard "Rick" Lippert, president, E-Z Photo Scan. "To further make the choice easier, we've reduced the PS80 MSRP to $2,095, which was the price of the PS50."
E-Z Photo Scan has expanded the versatility of Kodak Picture Saver Scanners by adding numerous options so users can customize their photo scanning experience. Customers have their choice of interfaces, from the standard Picture Saver software and Kodak Capture Pro software to versatile vertical applications for retail kiosks (using Scannx software) and for professional photography. Device interfaces are also available for mobile devices, like tablets and phones, and support for cloud storage of images.
ABOUT E-Z PHOTO SCAN
Founded in 1995, E-Z Photo Scan has worked with many community centers, historical societies, museums, and individuals to help them organize and preserve their photos and documents. Their team has long recognized the need for photo organization and management service providers, having seen individuals who find digitizing photographic archives to be a daunting, expensive and time-consuming task. It was awarded Kodak Picture Saver Scanning Systems Global Value-Added Re-Seller Leader of the Year.
Contact: Gary Pageau
Website: http://www.ezphotoscan.com
Email: gary(at)iotrak(dot)com
Phone: 1-866-562-4660
Phone: 1-517-392-6712