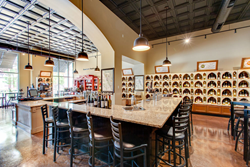 West Des Moines, Iowa (PRWEB) April 05, 2017
WineStyles Tasting Station was recently ranked in Entrepreneur Magazine's Top New Franchises list. This list recognizes the top 100 companies that have been franchising for five years or less, based on data submitted for Entrepreneur's Franchise 500® ranking. WineStyles Tasting Station, which began franchising in 2012, was ranked #24.
"We're honored to be nominated by Entrepreneur Magazine. By following our love for great wine and craft beer, we're blessed to be a top franchisor while turning our passion into a successful business," said Bryan McGinness, CEO of WineStyles Tasting Station. "Our low start-up costs and simple operations combined with our one-of-a-kind retail experience are not only empowering our franchisees to focus on their business goals, but also enabling our brand to develop in current markets and key growth cities nationwide."
"There was an impressive number of new franchise concepts vying for a ranking this year," says Jason Feifer, editor in chief of Entrepreneur. "These companies are already getting attention in the franchise world for their innovative products and services, marketing methods, and technologies."
Entrepreneur's 2017 Top New Franchises ranking was determined using the company's Franchise 500 formula, which is a comprehensive evaluation of more than 150 data points in the areas of costs and fees, size and growth, franchisee support, brand strength, and financial strength and stability. WineStyles Tasting Station's position on the ranking shows that it is already off to a strong start on its franchising journey.
To view WineStyles Tasting Station in the full ranking, visit [http://entrepreneur.com/franchises/topnew. Results can also be seen in the April issue of Entrepreneur available now on newsstands.
About WineStyles Tasting Station:
We're more than a wine shop. Uncork your dream business with WineStyles Tasting Station. Our leading franchise concept is a retail store and wine bar hybrid that also serves up craft beer and small plates with a one-of-a-kind, clubhouse experience. Franchisees benefit from multiple revenue streams, including monthly wine and beer club memberships, a customer loyalty program, plus an assortment of wine accessories and gift baskets. Furthermore, WineStyles Tasting Station offers low start-up costs, simple operations, flexible real estate design and unparalleled management training and on-site support. Single and multi-unit development opportunities are now available across the U.S. For more information, please visit http://www.WineFranchise.com