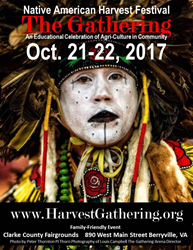 Celebrating the Harvest - Living History - Multi-cultural Thanksgiving
Berryville, Virginia (PRWEB) October 13, 2017
On Saturday and Sunday October 21-22 with a fabulous line up of traditional Native American Indian dancing, food, hand-made fine art and crafts, kid's games, iron-horse motorcycle ride and much more - join "The Gathering."
"The Gathering is an opportunity to bring together community heartstrings and weave those strands into a wondrously colorful tapestry," says Sue Peoples, The Gathering elder and secretary. "Let the spirit of The Gathering embrace you!"
The inaugural 2015 event with more than 5,000 attendees, featured conservation exhibits, live animals, teepees, indigenous food and a tribute to veterans and uniformed service personnel. These activities will return this year with the theme "painted ponies" with horses featured on the Saturday and a fund-raising motorcycle ride (iron horses) on Sunday.
Headlining the weekend is world-renowned Apsaalooké recording artist Christian Parrish "Supaman" who will perform both days of The Gathering. Having just won a MTV-Video Music Award for Parrish's contribution and featured role in the video Stand Up (for Standing Rock), this artist is continuing to soar with his talent as a fancy dancer, hip hop artist and cultural ambassador. Supaman is also the recipient of the Aboriginal Peoples Music Choice award, a Native American Music award, and a North American Indigenous Music award.
"I'm looking forward to this awesome event!" said Parrish.
Veterans and uniformed service members are invited out to be honored on both days during a sacred ceremony..
"Native culture is very complex and rich," says Chris Anderson, The Gathering elder and vendor coordinator. "This event is a wonderful opportunity to learn about both historical and contemporary Indigenous life and issues. We invite everyone to come, learn and share, participate and just have fun."
In the words of the founder, Rene White:
"Since we (we being a group of volunteers in this community) started working on this first, we felt led to do this spiritually," she began. She alludes to something bigger than themselves, some driving force, and a feeling of doing what's right, for the main reasons behind her and all of the volunteers getting together to create what is now The Gathering. The volunteers consist mostly of Clarke County natives, both literal and in the more general sense. Their dedication to this historically important event is so heartfelt, that one volunteer even dedicates her vacation hours to the organization of the event.
"Each volunteer gives so much of themselves and their resources, which helps keep me going to do this. They're the reason this is able to happen. I think when people come to this event they'll see that it's one of the most diverse audiences." René likes to put the emphasis on unity in commUNITY, and this is where the event really shines. Its ability to bring so many diverse people together for a good cause is outstanding.
"Really, I feel like it's a new tribe rising," she said, when describing the overwhelming sense of community that the The Gathering has."We see The Gathering as a kind of seed, representing a growing consciousness from the volunteers and the community." The more they can educate people on Native American customs, and how they used to live in the past and now, the more their purpose is fulfilled.
MOTORCYCLE RIDERS. Registration for the Iron Horse Motorcycle Ride for Oct. 22 is available online. http://harvestgathering.org/index.html
Advance Ticket Sales available online for $5 and group discounts. General Admission is $7 at the gate, Kidz age 6 and Under FREE.
Money raised goes towards scholarships for dancers and singers, and helps bring this type Native American Indian cultural event to this region.
This Festival is a "Rain or Shine" event.
This Festival has bleacher seats outdoors, or bring a lawn chair and relax around the circle. Tickets are available at the gate. Event subject to changes at any time.
About GoBlueRidgeTravel.com
Launched in December 2011, Go Blue Ridge Travel (GoBRT) is an e-commerce marketing company using digital internet channels to both create a travel ecosystem community for the northern Piedmont and Shenandoah Valley of VA, WV, and MD.
GoBRT covers 100 plus mile radius of the Interstate 81 Corridor spanning the states of Virginia and West Virginia.
Contact: Nancy Craun Founder and Owner
Phone: 540.533.1853
Email: brb(at)BlueRidgeBride(dot)com