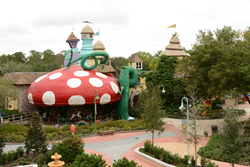 Vector Marketing instills the importance of personal growth and giving back to the community. We want to not only create the best version of our reps themselves, but to also make a difference in someone else's life."
Orlando, FL (PRWEB) May 16, 2017
Hundreds of representatives for Vector Marketing, the sales and marketing arm of Cutco Cutlery, will participate in a day of service (May 19) at Give Kids The World Village. The 79-acre, nonprofit resort in central Florida provides free weeklong vacations to children with life-threatening illnesses and their families. The nonprofit organization has welcomed more than 152,000 children since 1986.
"Our goal is to give children and their families a chance to step away from the challenges they are facing and just be kids for a wonderful week. We do that by surrounding them with love in a fantasy resort built for kids, but we can't do it alone," said Sylvia Oliande, Give Kids The World Village public relations manager. "By volunteering to keep our villas and landscaping beautiful, and assembling holiday props for our Winter Wonderland party, Vector Marketing representatives will help us bring the magic to life for our children."
The day of service is part of two professional sales training events in Florida hosted by Vector Marketing. The events are the National Sales and Service Bootcamp and the National CSP Personal and Professional Development Summit.
Vector Marketing student sales representatives have a long history of community service. They have volunteered with Habitat for Humanity, collected business clothes for low-income individuals seeking work, and helped make thousands of meals for the homeless through the nonprofit PB & J for Tampa Bay. Vector team members also play key roles in several charities, including the Front Row Foundation and Angel Wings International.
Vector sales representatives are thrilled to participate with Give Kids The World Village, said Dana Sclafani, Vector Marketing sales development assistant.
"Whenever we do surveys after events, the number-one thing we see is that representatives want to do a service project," said Sclafani. "Vector Marketing instills the importance of personal growth and giving back to the community. We want to not only create the best version of our reps themselves, but to also make a difference in someone else's life."
About Vector Marketing:
Vector Marketing is the marketing and sales arm of Cutco Cutlery, a 65-year-old company with headquarters and manufacturing facilities in Olean, New York. Vector sells Cutco products through a national team of sales representatives primarily consisting of motivated college students who are trained to do in-home and virtual demonstrations on a pre-set basis. Vector Marketing has over 200 locations nationwide and works with students of all majors with any levels of professional experience.