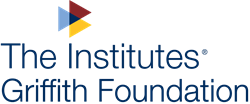 Malvern, Pa. (PRWEB) September 25, 2017
David L. Kaufman, ACAS, MAAA, received The Institutes Griffith Insurance Education Foundation's 2017 Lifetime Achievement Award during a ceremony at the National Association of Mutual Insurance Companies (NAMIC) Annual Convention on September 25 in Denver, Colorado.
Candidates for the 2017 Griffith Foundation Lifetime Achievement Award were selected by The Griffith Foundation Leadership Council, which includes insurance leaders, executives and academics. Winners are recognized for their commitment to education and support of the missions of The Griffith Foundation and NAMIC.
Kaufman is CEO of Motorists Insurance Group and BrickStreet Mutual Insurance, as well as board director for each property-casualty, life insurance, workers' compensation and insurance brokerage companies within the Group. Since joining Motorists in 1986, he has steadily ascended through a series of leadership roles with increasing levels of responsibility.
In addition, Kaufman holds industry-related board positions with the American Association of Insurance Services, Insurance Industry Resource Council (IIRC), NAMIC Property and Casualty Conference (PCC), Ohio Insurance Institute, Property Casualty Insurers Association of America, and TrustedChoice.com, as well as with The Griffith Foundation. He also holds leadership roles as co-chair of the IIRC, vice chair of OII and chairman of PCC.
For more information about The Griffith Foundation Lifetime Achievement Award winners, visit GriffithFoundation.org/LAA/.
###
About The Institutes Griffith Insurance Education Foundation
The Institutes Griffith Insurance Education Foundation is a 501(c)(3) not-for-profit, non-advocacy educational organization dedicated to providing unbiased information about risk management and insurance through educational programs targeting students and public policymakers. The Griffith Foundation is affiliated with The Institutes, the leader in delivering proven knowledge solutions that drive powerful business results for the risk management and property-casualty insurance industry. For more information, visit GriffithFoundation.org.
About Motorists Insurance Group and BrickStreet Insurance
Motorists Insurance Group and BrickStreet Mutual Insurance Co. affiliated through a joint venture in 2017. Ohio-based Motorists consists of property and casualty insurance, life insurance and insurance brokerage companies, and West Virginia-based BrickStreet is one of the largest writers of workers' compensation coverage in the region.
Now a super-regional carrier ranked in the top 20 mutual companies in the United States, Motorists and BrickStreet include more than 1,600 associates, 10 offices writing in 29 states, premiums of nearly $1.2 billion, a surplus of nearly $1.55 billion and assets of $4.5 billion.
The group markets insurance solutions through more than 17,000 independent agents at more than 2,000 agencies in the Midwest, Northeast and South.
Learn more about Motorists Insurance Group at motoristsinsurancegroup.com and BrickStreet at brickstreet.com.