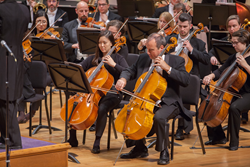 "Your Beethoven is not my Beethoven." — Gustav Mahler
Newport, KY (PRWEB) January 04, 2017
Tinkering with other composers' music over the decades and centuries has always been fair game (remember the disco treatment of Beethoven by Walter Murphy). Purists view it as sacrilege, whereas other composers view the works they respect through a modern lens (they think given today's new instruments, techniques, earlier composers may have approached and orchestrated their own works differently).
KSO Music Director (founder) James Cassidy commented on the January 14th makeover program. "Those who attend KSO concerts note that we present a very wide range of musical genres and styles within our thematic offerings. Each season I suggest at least one program to function as a musically nutritional outing for both musicians and audience. By that I mean, the selections on the program are both substantive and pose a challenge for the musicians. Hence, we get to play and hear the 3Bs through the orchestrations of 20th century masters."
First up on the program is J.S. Bach's organ work the Fantasia and Fugue in C minor, which gets a full- orchestral rebuild by Mr. Pomp & Circumstance himself — Edward Elgar. Elgar and Richard Strauss, who were friends, had agreed to each orchestrate a section of the work — Strauss, the Fantasia and Elgar, the Fugue. Elgar made good on the Fugue, but Strauss failed to live up to his end, So Elgar wound up transcribing the entire piece "to show how gorgeous, great and brilliant he [Bach] would have made his music sound if he possessed today's instrumental forces."
Gustav Mahler tackles Ludwig Van Beethoven's Seventh Symphony, offering simple cosmetic and landscape alterations. Mahler doubles the woodwinds, adds some dynamic range, removes some repeats and freshens the work with late 19th century sensibilities (That is, if you deem Mahler sensible). Mahler being a conductor and composer often "re-touched" the orchestrations of composers he admired (Beethoven and Schumann). When questioned about the way he conducted music by a certain, sacred German composer, Gustav Mahler replied simply, "Your Beethoven is not my Beethoven."
The program closes with a colossal up-sizing of Johannes Brahms Piano Quartet in G minor by fellow Viennese Arnold Schoenberg. Schoenberg's own reason for transforming a quartet into a full blown orchestral work were fairly straight forward — He liked the piece and thought that all the parts could be heard better (reinforced) in a large-scale format. So, he added the proverbial kitchen sink: full brass, percussion (including xylophone), auxiliary woodwinds and full string section. Gypsy music was all the rage in Vienna in the 1860s. Brahms's finale (Rondo alla zingarese — Rondo in Gypsy Style) captures the distinctive Hungarian rhythmic style and passion to which Schoenberg assigns some particularly tasty orchestrations which accelerate to a wild conclusion.
The Kentucky Symphony Orchestra opens the new year with six composers for the price of three at 7:30 p.m., Saturday, January 14, 2017 at NKU, Highland Heights, KY. Reserved seating tickets are $19, $27, $35 (children ages 6-18 are 50% off) and are available online at kyso.org, by phone (859) 431-6216 or at the door.
About the KSO:
For 25 years The Kentucky Symphony Orchestra has taken the "phony" out of symphony through live thematic concerts that culturally enrich, educate and entertain the residents of Northern Kentucky and Greater Cincinnati. The KSO performs throughout Northern Kentucky with three series of concerts.