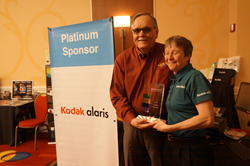 E-Z Photo Scan is dedicated to preserving photo memories and precious documents for families, and the Kodak Alaris technology platform has been key to our success - Rick Lippert, president, E-Z Photo Scan
Altamonte, Springs, FL (PRWEB) May 11, 2017
E-Z Photo Scan, the leading marketer of desktop photo-scanning systems, was recently recognized as an Elite Partner by Kodak Alaris, Rochester, N.Y. The award, presented in Cleveland, Ohio, recognizes E-Z Photo Scan's leadership as a global re-selling partner.
In the past year, E-Z Photo Scan has expanded the market for Kodak Picture Saver Scanners through its rental program, affiliate program, partnerships will leading genealogical and historical organizations and aggressive marketing and promotions. E-Z Photo Scan has broadened the content to include scanning tips, webinars and useful software downloads.
"It's gratifying to be recognized by Kodak Alaris as an Elite Partner," says Richard "Rick" Lippert, president, E-Z Photo Scan. "E-Z Photo Scan is dedicated to preserving photo memories and precious documents for families, and the Kodak Alaris technology platform has been key to our success."
ABOUT E-Z PHOTO SCAN
Founded in 1995, E-Z Photo Scan has worked with many community centers, historical societies, museums, and individuals to help them organize and preserve their photos and documents. Their team has long recognized the need for photo organization and management service providers, having seen individuals who find digitizing photographic archives to be a daunting, expensive and time-consuming task. It was awarded Kodak Picture Saver Scanning Systems Global Value-Added Re-Seller Leader of the Year.