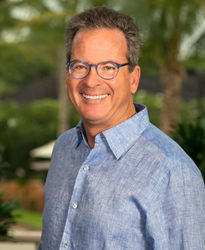 i (PRWEB) October 17, 2017
Island of Hawai`i, Hawai` Prominent Hawai`i-based real estate agent Robert Kildow continues his years-long collaboration with the invitation-only Haute Residence real estate network. As a Haute Residence partner, Kildow exclusively represents the luxury real estate market on the Island of Hawai`i.
Serving as the principal broker for Hualālai Realty, Kildow oversees product development, pricing, implementation of marketing plans, and coordination of public relation efforts for all Hualālai real estate.
He also manages the residential sales at Hualālai Resort, an 865-acre gated community on the Kona coast of the Island of Hawai`i. The luxury development includes the award-winning Four Seasons Resort Hualālai.
Kildow has led a team that has sold more than $2 billion in real estate sales. He, himself, has been recognized three times by Hawaii Business Magazine as the number one residential broker for the state of Hawai`i in 2010, 2012, and 2015. In 2013, he was inducted into the "Billionaires Club" by Who's Who in Luxury Real Estate for selling over $1 billion in real estate during the preceding nine years.
About Haute Residence:
Designed as a partnership-driven luxury real estate portal, Haute Residence connects its affluent readers with top real estate professionals, while offering the latest in real estate news, showcasing the world's most extraordinary residences on the market and sharing expert advice from its knowledgeable and experienced real estate partners.
The invitation-only luxury real estate network, which partners with just one agent in every market, unites a distinguished collective of leading real estate agents and brokers and highlights the most extravagant properties in leading markets around the globe for affluent buyers, sellers, and real estate enthusiasts.
HauteResidence.com has grown to be the number one news source for million-dollar listings, high-end residential developments, celebrity real estate, and more.
Access all of this information and more by visiting: http://www.hauteresidence.com