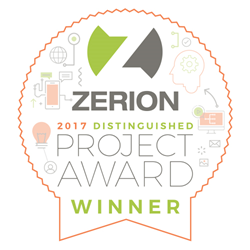 We are proud to stand by innovators and others who push the limits of what's 'possible' by reaching for more. Convatech and Kleinfelder are well-deserving recipients of this year's award. -Sze Wong
Herndon, Virginia (PRWEB) May 24, 2017
Today, mobile workflow platform and solutions developer Zerion announced the recipients of the 2017 Distinguished project awards: Convatech, based in NSW Australia and Kleinfelder, of Westborough, MA.
The Zerion Distinguished Project Awards recognize individuals and teams around the world that go above and beyond using Zerion products. They embrace new opportunities by exploring new ideas and blazing new trails.
Recipients of the Distinguished Project Awards bring fresh and innovative ideas to the market that redefine business process and impact businesses and the world for the better.
"Our mission, as a company, is to drive businesses toward higher levels of efficiency and lower levels of waste. We believe in partnering with businesses who desire the same," explained Sze Wong, CEO of Zerion. "Whether it's a single project designed to solve a single problem, or a large-scale endeavor designed to change the world, we are proud to stand by innovators and others who push the limits of what's 'possible' by reaching for more. Convatech and Kleinfelder are well-deserving recipients of this year's award," he continued.
Convatech is a multi-national company that supplies rubber, automotive, industrial and mining products to a number of global industries. With the goal of recovering and analyzing historical inspection field data, the company reached out to Zerion for a solution. Their project enabled the development of a market-leading analysis technique that allowed the company to increase their data volume by ten times.
"This project has provided, what we think, is a global leading analysis of conveyor components and their function with implications for all mining operations around the world," said David Sullivan, of Convatech.
Kleinfelder is a consulting firm that has been connecting great people to the best work since 1961. Their team of engineers, scientists and construction professionals provide solutions that improve their clients' transportation, water, energy and other private infrastructure. Kleinfelder worked with Zerion on a Soil Exploration solution to be used on geotechnical engineering and environmental projects, designed to improve and streamline the process between field data collection and final reporting. The result was a fully electronic project in compliance with both Kleinfelder and ASTM standards that is fully integrated, yielding more consistent, higher quality data. It's estimated that the new workflow will save the company 4,600 hours of inefficient labor each year.
"The benefits and rewards [of this project] have proven to be significant and worth the effort," explained Rebekah Stevens, Mobile and Field Solutions Manager for Kleinfelder. "Even if we could go back to paper, we'd never want to after using Zerion's Data Collector!"
Zerion is proud to recognize these Distinguished Project Award recipients, and to follow their success in the future.
Those interested in learning more about Zerion's unique, targeted workflow solutions can visit: http://www.zerionsoftware.com.
### Zerion is a mobile workflow platform with a suite of products designed to enable mobile data collection, dataflow automation, custom reports, and secure storage. The company is focused on accelerating companies toward a zero-paper footprint while creating platforms and solutions that increase overall efficiency. Zerion's clients represent various industries, including Agriculture, Healthcare, Engineering, NGO and the Government/Public Sector. For a full range of products and services, visit http://www.zerionsoftware.com/. ###