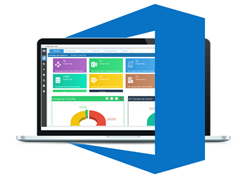 Lepide is, for the first time, extending its award-winning solution to the cloud
Austin, Texas (PRWEB) August 28, 2017
Today, Lepide announced the launch of LepideAuditor 17.2, now featuring cloud auditing for organizations, starting with Microsoft Office 365 (Exchange Online). Using its extensive experience in developing on-premise auditing and alerting systems, Lepide is, for the first time, extending its solution to the cloud. Office 365 is the first of many planned apps to be monitored via Lepide's API.
Common with other components included in the solution - and all available from one convenient dashboard - LepideAuditor 17.2 comes with numerous pre-defined reports to help track configuration changes being made in Exchange Online. Critical changes will be alerted in real-time, with (user-configurable) notifications being sent to administrators via email or via push-notifications to the LepideAuditor App, available for both Android and Apple. These reports can also be scheduled to be delivered at specific times to specific recipients or stored in a shared location.
Data security and compliance is key to an organization, whether on-premise or cloud, explains Aidan Simister, CEO at Lepide: "Increasingly organizations are choosing to store their sensitive data in the cloud, therefore it's more important than ever before to ensure security through visibility and identifying changes occurring to critical platforms and data.
"Introducing Office 365 auditing into our portfolio helps us align with our ultimate goal as a vendor; which is to help as many organizations as possible increase best practice data security, streamline IT operations and meet compliance – all from one scalable, powerful and affordable solution."
To find out more about LepideAuditor, please visit http://www.lepide.com/lepideauditor/
About Lepide
Lepide is a leading provider of auditing and monitoring solutions that help organizations meet all manner of security, IT Operations and compliance challenges. Championing simplicity since 2005, Lepide is working tirelessly to help over 10,000 organizations track changes to critical systems, alert on file and folder activities and uncover current permissions, all from a single integrated console. See more. Be Secure.