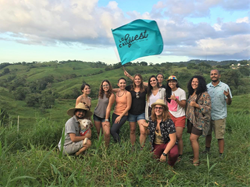 Experiential tourism is not just born from the need to evolve beyond homogenized tourism and create an authentic connection with the destination, but is also based on the sustainable development and strengthening of communities
San Juan, Puerto Rico (PRWEB) August 08, 2017
According to the UN World Tourism Organization 75% of millennials are looking for a travel experience that offers something new. In line with the digital age and the rising sharing economy, Local Guest responds to a new generation of curious and insatiable travelers who demand and expect more from each travel experience. This shift in travel expectations may be attributed to social media and specialized travel blogs, but what is undeniable is that these new travelers seek inspiration, entertainment and a bit of self-discovery in everything they do."Experiential tourism is not just born from the need to evolve beyond homogenized mass tourism and create an authentic connection to the destination, but is also based on the sustainable development of everybody involved and the strengthening of communities," said Carmen Portela, co-founder of Local Guest.
Local Guest is a Puerto Rican owned and run endeavor dedicated exclusively to offering unique experience to both residents and international visitors. It was created by a group of young Puerto Rican professionals who have taken it upon themselves to diversify Puerto Rico's tourism product and foster economic development consistent with the changing behavior of travelers. They recognize that tourism is the single economic sector that remains solid despite the current financial crisis*, but realize that it has not progressed to embrace the shifts in the world travel and tourism industry, such as the emergence of experiential tourism.
It serves as a digital platform that curates tourism experiences and connects travelers with local hosts. One, of their goals is also to collaborate with accommodations from hotels, small inns to hostels in order to create tailored experiences for their guests. Recognizing the need of collaboration with Caribbean stakeholders, their second phase will consist of developing unique experiences with local hosts from all of the 26 Caribbean countries in order to generate economic growth and for the overall advancement of the region as a whole.
The platform divides experiences in the following categories: nature/adventure (Adventure Nature), gastronomy (Foodies Galore), art/culture (Artsy Scene), aquatic (Water Escape) and celebrations/nightlife (Party Vibes). http://www.localguest.com goes live today August 1st, 2017. "Our business model uses as a starting point the development of experiences in island municipalities with the most distressing poverty levels. In conjunction with the area host, we seek to develop authentically local tourism experiences that stimulate visitor traffic and generate employment", explained Mónica Pérez, Local Guest co-founder.
Anyone can become a Local Guest host, such as Juan Cruz, host of the El Comerieño experience. El Comerieño begins with a kayaking trip along La Plata river, followed by lunch made with local produce at the Adicto a la Tierra farm. Afterwards, visitors will join the resident workers at the farm where they can feed the animals, help with the farming, and swim in the river. The experience concludes with a visit to the only sunflower field in the center of the island. "In Comerío we are developing many collaborative community efforts; Local Guest is the perfect channel to drive new opportunities and create awareness of our rural town as a travelers' destination", said Cruz. Along with him, other hosts from areas around the island have already joined the Local Guest team composed by leaders in tourism and digital marketing.

Source: Vélez, Gustavo (January 2017). San Juan, PR. Turismo: Motor del Crecimiento Económico.
About Local Guest
Local Guest is a Puerto Rican company based in San Juan, dedicated exclusively to offering unique destination experiences to both residents and international visitors, consistent with the evolution of the world travel and tourism industry. For more information, visit http://www.localguest.com, https://www.facebook.com/localguestglobal/, https://www.instagram.com/localguest/, https://twitter.com/localguestpr.
###