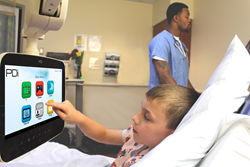 medTV delivers: "comfort and a home-like experience" to patients and "easy-to-implement and customizable" benefits to healthcare providers.
Springboro, OH (PRWEB) August 04, 2017
To continue their mission of improving patient experience with digital technology, on August 1, 2017, PDi Communication Systems Inc., the nation's largest manufacturer of healthcare-grade entertainment solutions, unveiled a new brand of interactive patient touchscreen televisions coined medTV®. medTV delivers a meaningful digital experience designed around the patient.
"PDi created medTV to provide patients with a seamless, easy to use tablet and TV in one. Improving patient experience is at the core of everything we do." says Marisa Vilardo, Product Manager of PDi Communication Systems, Inc. "medTV is much more than a great TV. It provides patients with everything from access to their social networks, games, education, or even picking up where they left off on their favorite binge-worthy TV series."
"medTV: patient experience on demand" was imagined as the modern, simplified message to quickly convey the benefits medTV delivers: "comfort and a home-like experience" to patients and "easy-to-implement and customizable" benefits to healthcare providers. The new medTV is like a smart phone so it's easy for patients to understand as soon as they touch it. Yet it is even better since it's designed for infection control, securely mounted so it won't be stolen, and it is continuously powered. medTV also offers facility brand customization and is scalable for healthcare providers to add apps and features to improve patient engagement, patient education, and patient satisfaction.
"When creating this product and brand, we focused on simplicity and usefulness," said Cat Saettel, Marketing Manager. "We asked 'What provides the most value to patients and their caregivers?' The PDi team made sure we created a meaningful solution that solves problems instead of creating problems - which technology can often do if not designed well. While medTV is easy-to-use, it is also easy to implement and affordable for smaller community hospitals or health clinics."
Jim Mick, General Manager had this to say, "medTV is an exciting new product for PDi that improves the patient's overall entertainment experience while addressing many of the needs and concerns facing healthcare facilities working to achieve better outcome-based results. medTV is a simple interactive solution, guaranteed to benefit the patient and their healthcare provider."
medTV is delivered on the individual interactive touchscreen device models for sale today called "medTAB14" and "medTAB19". This naming convention correlates with the two sizes of touchscreens PDi offers, 14" and 19" patient devices.
PDi also manufactures the complete bedside solution including swing arms, mounts and low-voltage power supplies. The arm mounts are specifically designed to be placed close to patients so they are able to adjust the bedside medTV device to the most comfortable viewing position and touch to interact with apps like many already do at home, without a pain in the neck. "It's just a better overall experience versus hand held tablets or than the most commonly seen flatscreen television placed across the room." said Cat Saettel. "This bedside personal system can be enjoyed by family and visitors too. It reduces noise and light in the room. Many people may not realize this, but a 14" screen placed in close proximity offers the same visual experience as a 90" screen across the room. That beats the average 32" or 42" screen size in a patient room."
For PDi, medTV is just the beginning of a modern brand legacy to engage patients. The healthcare market is ready to implement easy to understand technology that entertains and delivers information to improve health outcomes. Plus with telehealth capability, health administrators are certain to realize additional benefits to meeting patient engagement initiatives using medTV.
To learn more about medTV and PDi Communication Systems, Inc., or to book an interview, contact Cat Saettel at 800.628.9870, Ext 244 or email, csaettel@pdiarm.com. Please visit http://www.mymedtv.com or visit PDi Communication Systems, Inc. at http://www.pdiarm.com or on Facebook, LinkedIn, or Twitter.
About medTV
medTV, powered by PDi, is a meaningful patient experience designed around the patient. medTV provides home-like entertainment while connecting patients to their care; all delivered on a tablet display at the patient's fingertips. medTV is the affordable interactive solution to fit healthcare facilities' unique needs. http://www.mymedtv.com
About PDi
PDi Communication Systems, Inc is America's oldest and largest TV design and manufacturing company. For over 35 years, PDi has been a leader in serving healthcare providers with products to fit the demanding and evolving needs of healthcare environments. PDi is a privately held, family company that takes pride in the high-quality standard of the products it makes. As an ISO certified manufacturer, PDi is focused on consistent quality and continuous improvement. PDi's mission is to help patients, their families, and health/wellness providers cope with the anxiety and boredom of treatment, and improve their experience with entertainment and information. http://www.pdiarm.com