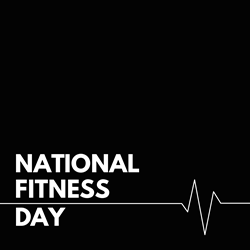 How cool would it be to have one day each year where everyone in the country works out?
New York, NY (PRWEB) May 02, 2017
This year, May 10th will mark the first National Fitness Day in the US.
Started by a group of friends who noticed that the country still lacked a day dedicated to fitness at large, National Fitness Day will be a single day to celebrate strength and empowerment through fitness, and for people across the country to get their sweat on. Several National Fitness Day classes will be hosted by ClassPass, Barry's Bootcamp, and others, in major cities including New York, Chicago, and LA.
The original idea was born out of charitable organization Class for a Cause, founded by long-time friends Kim Bielak and Bre Vergess. The premise was simply a single day to work out and donate to a fitness-related cause in order to extend the positive impacts of today's health and wellness trends more widely.
When they realized there was no National Fitness Day in the US, they couldn't pass up the opportunity to expand their impact.
"With social media, you see a new holiday being started almost every day," says Bielak. "But we think National Fitness Day has the potential to be significant for years to come. How cool would it be to have one day each year where everyone in the country works out? We want to highlight all the ways fitness is empowering people to be their best. It's an industry that has inspired and touched so many people at all walks of life."
The group is encouraging people to dedicate their National Fitness Day workout to doing good by purchasing Class for a Cause shirts to raise money for Girls on the Run, as well as encouraging more studios to donate a portion of their class proceeds alongside. The organization has already raised over $3,500 in shirt pre-sales alone.
To get involved, buy a Class for a Cause shirt on the Class for a Cause fundraising page, organize a workout class among your friends, co-workers, running groups and more, and tag #NationalFitnessDay to share how you're celebrating on May 10.
A running list of classes and events organized by ambassadors and additional studios is available at classforacause.org.
"We believe fitness has the power to change lives," says Bielak. "There's a ton of potential that has yet to be tapped in bringing the growing network of teachers, studios, and bloggers together to make an impact at scale."
###
About Class for a Cause: Class for a Cause is a movement dedicated to making health & wellness accessible for all by encouraging people to dedicate their workouts to a charitable cause. This year we will celebrate on National Fitness Day, May 10, and all proceeds will go to Girls on the Run. Do good for you, do good for someone else.
About Girls on the Run: Girls on the Run is a physical activity-based positive youth development program for 3rd - 8th grade girls that has served over one million girls across the country. Participants develop and improve competence, feel confidence in who they are, develop strength of character, respond to others and oneself with care, create positive connections with peers and adults and make a meaningful contribution to community and society. Each 10-week program concludes with all participants completing a celebratory 5k event, which gives them a tangible sense of achievement as well as a framework for setting and achieving life goals.
For further information please contact:
Kim Bielak
Founder, National Fitness Day and Class for a Cause
kim(at)nationalfitnessday.org| nationalfitnessday.org
(805) 558-1644