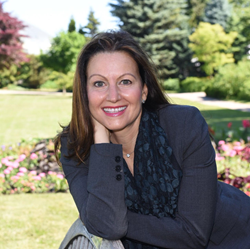 CHICAGO (PRWEB) October 12, 2017
Haute Residence and prominent Chicago-based realtor, Joanne Nemerovski, continue their partnership. As a member of the Haute Residence network of top brokers, Nemerovski exclusively represents the luxury real estate market in Chicago.
A luxury broker manager with the Lincoln Park office of Berkshire Hathaway Home Services, Nemerovski has over 26 years of experience in high-end real estate. With well over $1 billion in sales, she has assisted over 1,000 families in purchasing and/or selling their homes.
A native Chicagoan, she is consistently named one of Chicago's top producing luxury realtors, specializing in the city's most desirable neighborhoods: Lincoln Park, the Gold Coast, River North, Steeterville, DePaul, Old Town, Lakeview and River West.
Throughout her extensive career, Nemerovski has earned numerous accolades that attest to her professionalism, interpersonal skills and business acumen. Within the first five years of venturing into real estate, she became the youngest recipient of the "Founders Award" for selling over $100 million in real estate.
In 2007, Nemerovski was ranked simultaneously as the number one agent at Koenig & Strey and the number two agent at GMAC out of 22,000 brokers nationwide. A year later, she moved to Prudential Preferred Properties, where she constantly made the list of Rubloff's top individual brokers as well as of Chicago's elite top luxury producers. In 2012, Nemerovski celebrated a milestone, bringing her closing totals over $1 billion, which is an incredible accomplishment for a residential broker. Since 2014, she has annually received the distinction of the top broker for not only Illinois but also the 13-state, Midwest region at what is now Berkshire Hathaway Koenig Rubloff. She has also been named one of the "Megabrokers of the Midwest" by luxury real estate publication, Unique Homes, and has received numerous awards from The Chicago Association of Realtors.
Every year since its inception in 2011, Nemerovski has received the prestigious "Five Star Professional Award" from Chicago Magazine. This award is of particular importance to Nemerovski as it signals the ultimate recognition – that of clients. Five Star Professional conducts research with consumers, industry peers and leaders to identify service professionals who score highest in overall satisfaction.
Nemerovski is a regular contributor to articles in several business and industry publications, including Crain's and Chicago Agent and Chicago Magazine.
In addition to selling, Nemerovski has worked in all aspects of investment properties, including leasing, marketing, and management. She continues to be exhilarated by her real estate career. She prides herself on offering her clients a personalized approach and constantly strives to raise the bar on customer service.
About Haute Residence:
Designed as a partnership-driven luxury real estate portal, Haute Residence connects its affluent readers with top real estate professionals, while offering the latest in real estate news, showcasing the world's most extraordinary residences on the market and sharing expert advice from its knowledgeable and experienced real estate partners.
The invitation-only luxury real estate network, which partners with just one agent in every market, unites a distinguished collective of leading real estate agents and brokers and highlights the most extravagant properties in leading markets around the globe for affluent buyers, sellers, and real estate enthusiasts.
HauteResidence.com has grown to be the number one news source for million-dollar listings, high-end residential developments, celebrity real estate, and more.
Access all of this information and more by visiting: http://www.hauteresidence.com