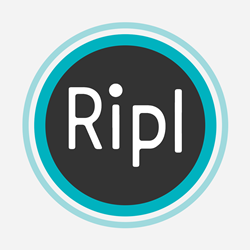 "Ripl adds Facebook Page integrations, enhanced features for small business customer connections."
(PRWEB) October 20, 2017
Ripl, Inc., a leading small business mobile marketing software provider, today gives small and medium-sized businesses worldwide a seamless, simple way to directly respond to Facebook Page customer feedback on their posts. Now launching on Android, the Facebook Page post feature was recently rolled out on all Ripl iOS apps.
Ripl users are primarily micro-business proprietors who use the software to create, post and track branded videos for social media. Ripl's users can now communicate and respond directly to their followers' activity on Facebook Pages from within Ripl. Responding to Facebook Page comments directly from push notifications will also roll out to Ripl users later this month.
Ripl COO Clay McDaniel said that the new customer relationship management ("CRM") features are a natural extension of Ripl's strength—helping small businesses create social media content with high visibility and engagement rates. "Successful small businesses use the power and immediacy of digital communications to acknowledge their customers and keep them engaged," McDaniel said. "Now, Ripl users talking with people who engage through Facebook Page posts can close the loop."
Work is underway to allow Ripl to post to additional social platforms like LinkedIn, YouTube, Google+, and others by year-end, as well as to expand cloud photo storage service integrations.
"Our customers say that they really want a simple, integrated tool that handles all of their social media, email, online ads, and customer communications needs in one place," said Ripl Founder and CEO Paul Ingalls, "and that's on their phone. We're actively building that for them."
For more information about Ripl and other recent announcements, please visit the company's News and Press page.
About Ripl:
Ripl, Inc., is a privately-held mobile software technology company based in Bellevue, Washington. The company provides marketing software and premium subscription services to small businesses globally via its "Ripl"-branded iOS and Android mobile applications. The company is lead by founder and CEO Paul Ingalls. For more information about Ripl, its apps, and the Ripl Pro premium subscription service, please visit: http://www.Ripl.com or the Ripl Facebook Page.
# # #
MEDIA CONTACTS
Clay McDaniel, COO
Jon Aiken, Communications Manager
clay(at)ripl.com
jon(at)ripl.com