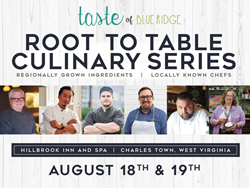 A foodie escape experience
Winchester, Virginia (PRWEB) August 04, 2017
Taste of Blue Ridge is a community of owners, chefs, farmers and food retailers who are dedicated to serving the highest quality level of food using the best resources available.
"The community's mission is to educate the consumer on how to take products from their farmer markets and backyard gardens hence "root origin" and turn them into award winning dishes and beverage cocktails. That is why Taste uses "root to table" to describe this foodie escape weekend," said Nancy Craun, Owner and Founder of Taste of Blue Ridge.
Funded through a grant from Virginia Tourism, the first event weekend is on August 18th and 19th at the Hillbrook Inn and Spa and The George Washington Hotel. This culinary collaboration involves chefs from the Virginia counties of Loudoun, Clarke, Frederick, the City of Winchester, and Jefferson County in West Virginia.
"It is going to be interesting and fun having this many executive chefs and restaurant owners in one kitchen. Hopefully the fireworks will be minimal!" said Craun.
Friday, August 18th at the Hillbrook Inn and Spa is a cocktail party combining Asian and Virginia cuisine and cocktails starting at 7 pm.

Owner/Chef Ming Chan from Chinatown in Winchester, Virginia will showcase "Summer in Saigon with Vietnamese Pork Lettuce Wraps and a martini with an Asian influence – Saigon Brow.
Owner Jeremy Throckmorton of Throx Market will give a different twist to the Virginia BBQ by featuring a smoked pastrami with homemade sauerkraut. Celebrating Virginia Craft Beer Month, guests will experience a "beertail" called Mitchelada.
Chef Steve Ferrell of HIllbrook Inn 's Redbook Restaurant will offer a surprise signature tapa and cocktail for the evening.
Friday, August 18th at George's Food and Spirits is an evening of oysters on the patio. Combining draft beer and/or wine, Chef John Lawrence features roasted oysters on the Sundowner Patio. "A real popular event for the locals," said Suzi Smith, Director of Sales at The George Washington Grand Wyndham Hotel in Winchester, Virginia.
Saturday, August 19th, is a dinner party with live music at the Redbook Restaurant located at the Hillbrook Inn and Spa. "The goal is to provide an unforgettable personal experience between chefs and the consumer with the chance to see first-hand how the Taste of Blue Ridge community of farmers and restaurants collaborates for the love of good food," said Carissa Zannella, owner of Hillbrook Inn and Spa.
"Root to Table" Dinner Menu will be:

First Course: Baked Rappahannock Oysters prepared by Chef John Lawrence from George's Food and Spirits in Winchester, VA
Second Course: Seasonal salad featuring Chef's Garden and Macintosh Farm produce prepared by Chef Steve Ferrell from the Redbook Restaurant in Charles Town, West Virginia
Third Couse: Locally grown, organic Heritage Breed Beef prepared by Chef Lawrence Kocurek from Gentle Harvest in Upperville, VA
Entrée: Mangalitsa Pork, Porchetta and Guanciale Summer Vegetable Gratin with an Heirloom Tomato Jus prepared by Chef Erik Foxx-Nettnin from Magnolia's at the Mill in Purcellville, VA
Dessert: Peach tart with peaches harvested by Macintosh Farm prepared by Chef Susan Dolinar from Nibblins in Winchester, VA
"Gentle Harvest and Ayrshire Farm are proud to be a part of the Blue Ridge Root to Table Program. As part of the Gentle Harvest Mission, we have a social responsibility to connect our communities to where there food comes from. Through our partnership with the Blue Ridge Root to Table program, we have been given greater strength to carry on our mission, with the help of partnering restaurants, farms, and businesses," said Robert Doane, Marketing and Events Specialist - Gentle Harvest & Ayrshire Farm.
Tickets for the Hillbrook Inn and Sap events may be purchased at tasteofblueridge.eventbrite.com. Price range is from $25 for the cocktail party to $95 for the dinner. Beverage, sales tax, and gratuity are additional. The George's Food and Spirits may be purchased directly from The George Washington Hotel.
Hillbrook inn and Spa is offering 20% off the cost of overnight accommodations.. There will also be a $25 credit toward any spa experience. The promo code is 2ROOT2017.
The George Washington Hotel Grand Wynham Hotel is also offering a discount on lodging. The promo code is GoBlueRidgeTravel.
"The dress code for all events is casual. It is rare for guests to have an intimate conversation with chefs about their passion for food. This is the goal of our "Root to Table" events. We want everyone to be relaxed and enjoy a truly authentic experience," said Craun,
About GoBlueRidgeTravel.com
Launched in December 2011, Go Blue Ridge Travel (GoBRT) is an e-commerce marketing company using digital internet channels to both create a travel ecosystem community for the northern Piedmont and Shenandoah Valley of VA, WV, and MD. In 2014, the Kids Trail was launched to promote multi-generational family travel and has received three grants from Virginia Tourism. In 2016, Taste of Blue Ridge, a foodie escape experience supporting local resourcing in the valley. Taste of Blue Ridge with its marketing community partners are the recipient of a $25,000 tourism marketing leveraging grant – Blue Ridge Root to Table.
Founded and owned by Nancy Craun who grew up in the area and has 30 years of experience in the event planning, restaurant, hotel, and marketing arenas. GoBRT covers a 160 plus mile radius of the Interstate 81 Corridor spanning the states of Virginia, West Virginia, and Maryland.
Contact: Nancy Craun Founder and Owner GoBlueRidgeTravel.com and ShenandoahValleyKidsTrail.com Phone: 540.533.1853 Email: info(at)GoBlueRidgeTravel(dot)com