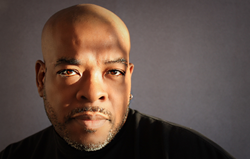 Given recent events in Charlottesville, "SAME" is extremely relevant and needs to be heard by all in the interest of promoting compassion and understanding.
(Chicago, IL) August 24, 2017 (PRWEB) August 28, 2017
Darryl Duncan is an award-winning veteran songwriter and producer. When he's not writing music for TV and radio commercials, he spends his time creating songs that have special meaning to him. One issue Darryl has always been very passionate about is the fight against hatred and racism, especially in today's social and political climate. So Darryl was compelled to write a song about this issue. This song is called "SAME".
Darryl explains: "This song is for all those who do not realize that we are all one human race and for those who do realize this, then consider this song a tool to help spread a message of love and equality. I want the entire world to hear this song and if it can change just one heart filled with hate, then I have achieved my goal." Darryl's latest creation is powerful, timely, universal and delivers a message that truly has the potential to inspire positive dialog.
To hear this incredible song click on or paste this link into your browser: https://youtu.be/8TXA3NRssXE
Linda Chelgren former VP of creative licensing for Rondor/Universal Music Group explains: "This song speaks of aspiring to racial harmony and equality and is eloquent in a very contemporary way, presenting a truly positive vibe. The lyrics are inspirational and uplifting. Given recent events in Charlottesville, "SAME" is extremely relevant and needs to be heard by all in the interest of promoting compassion and understanding. I also feel there will be some global brands who will immediately recognize the value in attaching their brand to this message. "
Veteran Music industry record executive Steve Buckley says: "I think all of us will agree music is the soundtrack of our lives and connects us to various periods in our lives. In today's social climate Darryl's song "SAME" strikes a very strong cord and causes us all to look in the mirror and focus on reality and what's important. I certainly hope the world will have the opportunity to hear this amazing song, as its potential to unite is infinite."
-----------------
About Darryl Duncan:
Darryl is a veteran award-winning songwriter and producer with several major credits in the mainstream music industry as a staff songwriter for Warner/Chappell music and A&M records. Today Darryl's company GameBeat Studios also has extensive credits in the gaming and advertising industries. Learn more about GameBeat and their credits at http://www.gamebeatstudios.com. More of Darryl's song material can be heard at http://www.darrylduncan.com
About Linda Chelgren:
Linda is a veteran music industry professional and served as Vice President of Creative Licensing for Rondor Music International/Universal Music Group (UMG). Linda has extensive experience in synchronization for film, trailers, television and commercials. She promoted and negotiated master use fees for artists including the Beach Boys, Al Green, Otis Redding, Tom Petty, Jason Derulo, Avril Lavigne, Kiss, Mark Knopfler, Melissa Etheridge, Paul Williams and Richard Carpenter.
About Steve Buckley:
Steve is a 40+ year music industry veteran with a career that includes major label tenures at STAX Records, United Artist, Capitol Records, and Motown Records. He has held executive marketing, sales and A&R positions at these various labels. Steve has worked directly with artists such as Kenny Rogers, Natalie Cole, Tina Turner, Lionel Richie, The Staple Singers, Isaac Hayes, The Emotions, ELO, Earl Klugh, Crystal Gayle, Peabo Bryson, Frankie Beverly & Maze and the The Temptations just to name few. For the last several years Steve has served as an Entertainment Business and Marketing Consultant.