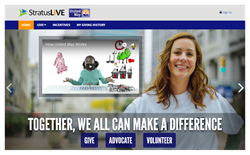 StratusLIVE's donor experience is exceptional, so once we learned of the new iGuide support for national campaigns and how the new app streamlines setting up and running campaigns, the decision to make the switch was easy." -Karen Pate
Virginia Beach, VA (PRWEB) May 05, 2017
StratusLIVE announced today that United Way of Central Maryland has selected the StratusLIVE Workplace Giving Portal as their online workplace campaign software platform for the future. United Way of Central Maryland noted a strong interest in improving the online donor experience as a primary motivation for change.
"Feedback from corporate partners and employee donors helped us understand that a modern, intuitive, easy to use interface for donors, is critical to maximizing campaign performance," said Molly Boncaro, vice president, development at United Way of Central Maryland. "Today's donors expect a clean, intuitive, online experience and StratusLIVE product features such as; responsive design, mobile-ready architecture, and the ability to process multiple gift types in a single checkout process, are all great improvements over our previous system."
StratusLIVE recently announced several enhancements to the Workplace Giving Portal including, integration with United Way Worldwide's new iGuide API, stand-alone availability, and an entirely new app for launching and managing campaigns online.
According to Karen Pate, vice president information technology at United Way of Central Maryland, "We considered many options to replace our older software. StratusLIVE's donor experience is exceptional, so once we learned of the new iGuide support for national campaigns and how the new app streamlines setting up and running campaigns, the decision to make the switch was easy."
"We are excited to welcome United Way of Central Maryland to our family of clients," said Jim Funari, StratusLIVE CEO. "Our Workplace Giving Portal software has been very well received by donors, workplace coordinators, and nonprofits alike. We look forward to partnering together with United Way of Central Maryland to provide exceptional service to their donors and corporate partners."
About United Way of Central Maryland
For more than 90 years, United Way of Central Maryland has been improving lives in the communities it serves. In January 2017, United Ways in Maryland released the ALICE® Report, revealing that more than a third of Maryland households – nearly 750,000 – either live in poverty or qualify at or below the ALICE (Asset Limited, Income Constrained, Employed) threshold. United Way of Central Maryland works to stabilize ALICE residents – individuals and families who work hard but still cannot afford basic necessities because of Maryland's high cost of living – and those that fall below the Federal Poverty Level, by focusing on the building blocks of a self-sufficient life: education, employment, housing and health. All of United Way's work is supported by the 2-1-1 Maryland United Way Helpline, a 24-hour, 7-day a week service that provides information and referrals on a variety of health and human service issues.
StratusLIVE is a leading provider of cloud-based solutions for nonprofit organizations. The StratusLIVE CRM suite features enterprise-class relationship management, online fundraising, business intelligence, and analytical marketing capabilities, natively integrated with the commercial Microsoft Dynamics 365 platform. StratusLIVE is headquartered in Virginia Beach, Virginia, with offices throughout the United States. For more information, visit http://www.stratuslive.com.