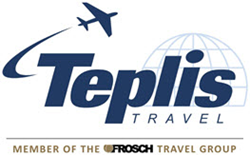 Monica Teplis, Chairman of Teplis Travel, reiterates, "We are thrilled to have these two seasoned professionals join our team. Their deep knowledge of the industry and results-driven work ethic will be an invaluable asset to Teplis Travel."
Atlanta, Georgia (PRWEB) May 11, 2017
Teplis Travel, a rising corporate travel agency in the U.S., announces the appointment of Phil Crofton, Senior Vice President and Scott Fischer, Director of Business Development.
Gary Teplis, CEO of Teplis Travel, is excited to add, "Certainly a dynamic duo. Collectively, Phil and Scott bring over 45 years of corporate travel brain power. They really understand the travel needs of corporations, regardless of their size, and the needs of each generation of travelers. We look forward to extending the Teplis Travel reach further than ever before."
Phil Crofton, Senior Vice President, will concentrate on sales team growth, focusing on new sales strategies and scalable solutions for client success in a vastly changing industry.
Phil's leadership experience spans from strategic sales and marketing to domestic and international airline management. He has previously assisted corporations in the identification of process improvement, best practices, and solution management while leveraging technology to reduce overall costs.
Scott Fischer, Director of Business Development, will lead the Central Region's sales efforts. Scott has an impressive background as Director of Business Development at BCD Travel, as well as a recognized leader as Sales Manager for Egencia. His experience in sales, business development and strategic marketing will be a great asset to the already thriving agency.
Monica Teplis, Chairman of Teplis Travel, reiterates, "We are thrilled to have these two seasoned professionals join our team. Their deep knowledge of the industry and results-driven work ethic will be an invaluable asset to Teplis Travel."
About Teplis Travel
Teplis Travel, with locations in Atlanta, GA, and Las Vegas, NV, is a leading travel management company, providing travel services to business travelers and their companies. Teplis Travel has over 150 clients across North America and supports global travel programs as a member of the Frosch Travel Network. For more information, visit http://www.teplis.com.
Phil Crofton and Scott Fischer will attend the 2017 Institute for Supply Management (ISM) conference taking place in Orlando, Florida, May 21-24. If you're planning to attend, stop by and meet the dynamic duo at the Teplis Travel booth #729.
About ISM
ISM is the largest global organization dedicated to advancing the practice of procurement and supply management. They deliver continuous opportunities to enhance careers at every stage through wide-ranging educational resources, certifications, conferences and seminars around the world. Learn more: https://www.instituteforsupplymanagement.org/