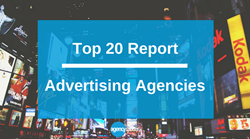 Ranking agencies who have proven both advertising expertise and the ability to deliver success for clients helps introduce advertising executives to new creative talent around the world.
Atlanta, Georgia (PRWEB) February 07, 2017
The Top Advertising Agencies Report ranks the top 20 advertising agencies. The quarterly report evaluates more than 2,300 advertising agencies based on credentials, focus and expertise in advertising, client feedback, and project work.
The Top Advertising Agencies for 2017's February report are: Ambit, Sagon Phior, Amelie Company, BASIC, Ames Scullion O'Hare, 6S Marketing, Smash Urban Media, The Engine Is Red, Zellmer McConnell Advertising, iSynergy, Flint & Steel, Smith Brothers Agency, breensmith, Kworq, Meers, JStokes Agency, Social Fulcrum, Preston Kelly, Primary Design, and LEVEL Brand.
"Finding an advertising agency to get the best big idea and deliver great creative against an integrated, multi-channel campaign is critical," said Brian Regienczuk, CEO and founder of Agency Spotter, "highlight agencies who have proven both their advertising expertise and the ability to deliver success for clients."
This quarter's top advertising agencies come from 14 metro areas: Toronto, Los Angeles, Denver, San Diego, Atlanta, New York, San Francisco, Austin, Cleveland, Pittsburgh, Kansas City, Berkley, Boston, and Minneapolis.
The agencies were selected based on Agency Spotter's proprietary research methodology, which uses their websites extensive data along with qualitative and quantitative insights to evaluate many factors including each company's qualifications, experience level, positioning, and client feedback.
Agency Spotter's top agency research reports are issued on a regular basis and are continuing to roll out across more than a dozen service areas. Interested companies are encouraged to claim their agency or apply to get listed and review the report methodology to be evaluated for future coverage.
For the full research and to see client reviews, visit:
https://www.agencyspotter.com/top/advertising-agencies
About Agency Spotter
Agency Spotter is a B2B marketplace for the marketing services industry based in Atlanta. Agency Spotter's self service platform connects marketers with the agencies and design firms, saving hundreds of hours, to help businesses grow. The company's website and iPhone app map the marketing services landscape based on client reviews, the type of services offered, quality of work, industry experience, and many other facets. All of this helps marketers and other expert decision makers find the right partner in less time while considering a large set of agencies across more than 36 services.