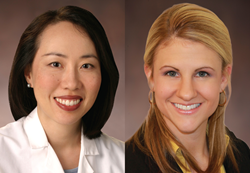 ...it was in our patients' best interests to invest in a full range of these dry eye tests.
WESTMINSTER, Md (PRWEB) August 01, 2017
In response to the nearly 30 million Americans searching for dry eye relief, northern Maryland's Center for Total Eye Care has become one of the first in the area to invest in a comprehensive range of dry eye diagnostics to customize and improve patient treatment plans.
"One of the issues with past dry eye care methods was that patients were coming into eye care facilities and receiving treatment designed only to mask their symptoms," says one of Total Eye Care's dry eye experts, Dr. Christine Luzuriaga. "The underlying cause was often not fully addressed. This was due in large part to a lack of diagnostic technology. Thanks to recent advancements, those technologies are now available, and our team decided that it was in our patients' best interests to invest in a full range of these dry eye tests."
Dry eye is actually a single component of a lesser known, broader condition called ocular surface disease, or OSD. While OSD can have a wide variety of causes, dry eye in particular is a chronic disease that generally occurs when the eye cannot sustain a healthy tear film.
"There are a variety of factors that may contribute to an unhealthy tear film," says Dr. Cynthia Jun, dry eye expert at Center for Total Eye Care. "With a comprehensive range of diagnostics, we're able to pinpoint the source of each patient's condition and recommend a customized treatment plan. This leads to better, more satisfying results for our patients, and that's really our main mission for all those that trust us with their vision."
To learn more about dry eye at Center for Total Eye Care, visit CenterForTotalEyeCare.com. Those interested may request an appointment online, or call (410) 876-3333.