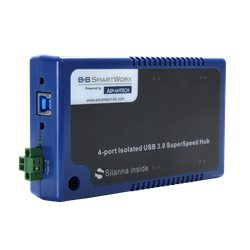 Ottawa, Illinois (PRWEB) August 01, 2017
Adding to its comprehensive line of USB products, B+B SmartWorx powered by Advantech has announced its newest USB Hub to the industry: USH304, the first isolated USB 3.0 SuperSpeed Hub offering both isolation and super high speeds.
USH304 — an ultra-rugged 4-port isolated USB — offers 2,500 VDC voltage isolation for upstream ports and 4 x downstream USB 3.0 SuperSpeed ports. Isolation usually downgrades USB speed to 12 Mbps; not the case with this hub. With a transfer speed of up to 5 Gbps, it can be powered via a USB bus or 10~30 VDC external power source. Users can experience the confidence of isolation to protect equipment and systems while also operating power-hungry industrial devices.
This is opening new doors for increasing speed in industrial applications, such as security systems, machine vision, product programming, testing and charging at the end of the production line. Previously, USB Hubs with isolation were limited in bandwidth. Now with USH304, users can power larger devices and provide isolation.
Additional features of the new USH304 include the following:

Ruggedized design for industrial commercial applications
ESD protection up to ±8 kV (Level 3)
Operating temperature: 0°C to +70°C
Power status and downstream port speed LED indicators
Lockable USB 3.0 cable included
DIN rail mount adapter clip included
The industrial USB 3.0 Hub rounds out a full line of USB products from B+B SmartWorx. There is an available hub for every application and a USB product family to meet various needs. To browse available USB product families, visit http://www.bb-elec.com/Products/USB-Connectivity.aspx.
For more information on the latest B+B SmartWorx USB products and technology, contact B+B SmartWorx in the U.S. at 815-433-5100 or in Europe at +353 91 792444.