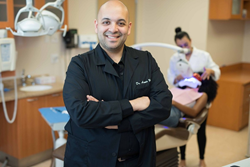 Los Angeles, California (PRWEB) August 31, 2017
Haute Beauty welcomes celebrity cosmetic dentist Dr. Aamir Wahab to its invite-only network of beauty and wellness experts.
Dr. Wahab is a leading provider of dental and oral health care services to patients in and around Beverly Hills, CA and the surrounding regions. At his practice, Unforgettable Smile, Dr. Wahab offers procedures and treatments including the application of porcelain veneers, dental implants, Invisalign®, teeth whitening, gum therapy, cosmetic services, full mouth reconstruction, IV sedation, and dental bonding. Dr. Wahab is also certified to perform sedation dentistry.
There are several ways to maintain optimal oral care and a fresh image, which is why Dr. Wahab is committed to helping patients meet their unique needs. He strives to make each visit comfortable, secure, and successful. The residents of Beverly Hills as well as Hollywood's A-list celebrities who visit his practice can attest to his experience and knowledge. Dr. Wahab takes pride in offering the highest level of care and services to each and every patient he sees. He is determined to provide patients with the smile they deserve.
About Dr. Wahab:
Dr. Wahab attended the University of Illinois where he obtained his degree in Dental Medicine. Shortly after, he obtained his Masters in Business Administration at Columbia University and London Business School in a joint degree program. He has also trained at the Las Vegas Institute where he studied cosmetic dentistry and the Misch Implant Institute to advance his surgical knowledge. He holds memberships with the International Congress of Oral Implantologists, the Member of the Global Dental Implant Academy, the Beverly Hills Chamber of Commerce, and the American Dental Association. He also consistently takes continuing education courses to stay abreast of the latest technological advances in dentistry.
About Haute Beauty:
Haute Beauty is affiliated with luxury lifestyle publication Haute Living. A subsidiary of Haute Living magazine, Haute Beauty covers the latest advancements in beauty and wellness and provides readers with expert advice in the most innovative aesthetic and reconstructive treatments through its network of acclaimed surgeons.