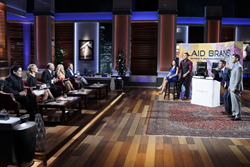 Just having the opportunity to present your idea in front of such amazing business people was something that most entrepreneur's dream of. -Adam Rauch, CEO
Tampa, Florida (PRWEB) May 11, 2017
Laid Brand (http://www.laidbrand.com) helps you get noticed for all the right reasons…with Pheromones. As the leader in Pheromone-infused hair care, Laid Brand has developed an exclusive line of women's hair care products, and pitched their concept to the panel of investors on ABC's Shark Tank May 12th, 2017 at 9pm EST.
"Just having the opportunity to present your idea in front of such amazing business people was something that most entrepreneurs dream of. We have worked so hard since 2012 to create the very best products we could, and cannot wait for the world to experience them," says Co-Founder, Adam Rauch.
"Having previously launched brands and products at some of the most notable companies in the beauty industry, the Laid Brand team wanted to create something truly different…and we did," says Co-Founder, Derek Shaw.
The secret ingredient, a proprietary blend of pheromones called Pherottraction™, claims to help create positive social reactions from those around you.
ABOUT LAID BRAND:
Laid Brand was founded in 2012 by Celebrity Stylist David L. Hensley Jr, Adam Rauch, Nicholas Corbin, and Derek Shaw, and are based out of Tampa Florida. Their salon-grade hair products contain Pherottraction™ Technology, a blend of six sense-stimulating pheromones designed to enhance a woman's senses and create attraction.
All Laid Brand products are paraben and sulfate free, color safe, and protect, hydrate and repair the hair. The products are made in the U.S.A. and the company commits to never testing on animals.
Laid Brand products retail for $24.99, and are available in select salons, and online at http://www.laidbrand.com.