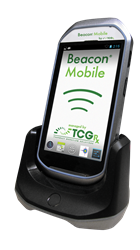 Since using Beacon Mobile, we have noticed that the time it takes to complete our vendor puts has greatly decreased.
POWERS LAKE, Wis. (PRWEB) October 24, 2017
Beacon is already known for its advanced reporting, filling algorithms, inventory stocking, and unsurpassed technology utilizing barcode processes. CEO, Duane Chudy comments, "Beacon has always been ahead of inventory technology with inventory tracking down to the individual pill in a specific bottle. Beacon Mobile now allows an already streamlined and efficient process to be enhanced with more mobility and convenience."
According to Matt Noffsinger, EVP of Sales at TCG, "One of the most time consuming parts of a technician's day is walking the shelves to put away inventory. Beacon has streamlined this process by reducing footsteps. Beacon Mobile takes it one step further by eliminating the back and forth to a fixed computer terminal. Our new Beacon Mobile now allows the technician the ability to scan and stock without the need of a desktop client interface, speeding up the process by as much as 40%, which is unheard of."
Sarah Arndt, Director of Operations at Assisted Living Services in Milwaukee, Wisconsin, has been using Beacon Mobile since August 2017 and reports, "By using the Beacon Handheld device on a daily basis to complete our daily vendor put, we have noticed that the time it takes to complete our vendor puts has greatly decreased. In addition, the ability to see where like items are stored within the Beacon slots has been extremely helpful in allowing us to maximize our storage locations."
For additional information on the new Beacon Mobile, contact TCGRx by phone at 262.279.5307.
About TCGRx
TCGRx is a leading supplier of pharmacy automation, offering scalable solutions that range from simple packaging technology to enterprise-wide perpetual inventory management. TCGRx solutions are specifically designed to make pharmacies and their processes more efficient. The company provides comprehensive workflow automation, including design and consultation services, to offer in-patient, out-patient and long-term care pharmacies a fully featured, integrated solution. With a strong presence in pharmacy markets throughout the U.S. and Canada, TCGRx is headquartered in Powers Lake, WI. For additional information, visit http://www.TCGRx.com, find us on Facebook, or contact us at 262.279.5307.