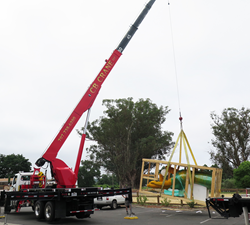 Napa, California (PRWEB) May 31, 2017
Gordon Huether's temporary sculpture exhibition for Bottlerock Napa Valley will be installed this week, just prior to the festival's opening on May 26, 2017. The carefully curated collection of Huether's sculptures, Hand of the Land, Barrel Rings, Redhead, Reflections, Color Spheres and Silver Twist will be displayed throughout the three-day music, wine, food and brew festival held in historic downtown Napa from May 26 through May 28, 2017.
Festival organizers approached Huether several months ago with the idea of staging a temporary exhibit of his work. "BottleRock reflects the best of Napa Valley, pairing great music with the amazing wine, food and weather for which the Valley is known," stated Justin Dragoo of Latitude 38 Entertainment. "For our art program in 2017, we wanted to continue the theme and feature Gordon who is perhaps our area's most renowned artist. He is internationally acclaimed but makes his home here in Napa. The Valley is lucky to have Gordon as one of our own, and we are thrilled to showcase his work at the festival."
Huether's response to the invitation was enthusiastic. "Combining fine art with music seems like a no-brainer. Visual, two- or three dimensional artistic expression has always been a part of music – the most apparent example is the classic vinyl LP cover – and simply puts additional emphasis on the artist's message… How cool is it be part of such a major event in my own backyard? BottleRock brings together so many artists in so many genres, plus music, food, wine…it's an honor to be included in the festival."
The six artworks on display are just a small sampling of the 200+ inventory of Huether's public and private art commissions and fine art practice. His contemporary sculptural work often incorporates repurposed materials, features bright colors, is sometimes contemplative and almost always evokes a sense of joy. He is confident these sculptural elements at the festival will awaken visitors to yet another source of entertainment and inspiration.
About Gordon Huether
Local Napa Artist, Gordon Huether, specializes in large-scale, site-specific art installations that are integrated into architecture and landscape for projects throughout the world.
Huether has completed more than 250 projects, which have included art installations for private corporations, airports, transportation centers, parking garages, hotels, universities, hospitals, recreation centers, civic buildings, libraries, museums, custom commissions and private homes. Huether's work is exhibited regularly and widely collected. Huether's 15,000 foot studio is located at 1821 Monticello Road, Napa, around the corner from Silverado Country Club and Resort and is open to the public, where visitors can enjoy his gallery, showroom, studio space and fabrication studio. His studio is staffed by highly skilled artisans who are proficient in a wide variety of materials and techniques.
For more information go to http://www.gordonhuether.com
Follow us on Instagram
Follow us on Twitter
Follow us on Facebook