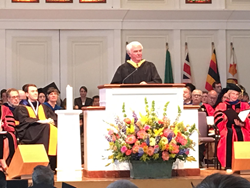 What began as an unconventional idea has since impacted the lives of more than 2.5 million people
Wenham, MA (PRWEB) May 22, 2017
Don Stephens, President/Founder of Mercy Ships, received an honorary Doctor of Divinity degree at Gordon College Saturday at the institution's commencement ceremony. Stephens also delivered the baccalaureate address to the Class of 2017 graduates on Friday. Stephens was recognized by Gordon College for his longstanding service and the profound impact of Mercy Ships around the world, through the organization's use of hospital ships to deliver hope and healing to some of the world's poorest countries.
Don Stephens founded Mercy Ships in 1978. It was the realization of a dream that was inspired by three life events: the devastation of a hurricane in the Bahamas in 1964, the birth of his profoundly disabled son, John Paul, and a brief encounter with Mother Teresa. His inspiring baccalaureate speech to the Gordon graduates included poignant memories of meeting Mother Teresa in Calcutta. Stephens referenced her pointed question at the time which became his motivation through years of service: "Why were you born?" After starting Mercy Ships, Stephens and his wife Deyon lived onboard the first Mercy Ship, the Anastasis, for ten years with their four children before moving to land to continue to build the global charity.
"What began as an unconventional idea has since impacted the lives of more than 2.5 million people," said Gordon President Michael Lindsay. "Today, the floating hospitals of Mercy Ships bring medical teams, sterile operating rooms, clean water, and the training and tools necessary to treat for those without access to medical care. It embodies the example set for us by Jesus, bringing hope and healing to those in greatest need. It is our privilege at Gordon College to honor Don Stephens' humble and generous spirit, noble work and great Christian virtue."
"It is indeed a high honor to receive the degree of Doctor of Divinity, honoris causa, from Gordon College, as well as to address the Class of 2017 – future leaders in the making," shared Don Stephens, President and Founder of Mercy Ships.
Since 1978, Mercy Ships has provided medical services and materials valued at over $1.3 billion. This includes over 84,000 life-changing surgical procedures in 55 developing countries. The organization has also trained almost 40,000 healthcare professionals in the countries served so that healing can continue after the ship leaves the port.
Stephens' honors and awards include the U.S. Congressional Gold Medal nomination (2016); the Points of Light Award (2014); the Variety Club International Humanitarian of the Year (2009); the Commanders of the Republic Award, Republic of Benin (2009); and, from Food for the Hungry, the Two Hungers Award (1989).
"Don Stephens followed his passion to provide hope and healing for the poorest of the poor when he founded Mercy Ships nearly 40 years ago. Gordon College's conferring of an Honorary Doctorate of Divinity is a fitting tribute to Don's compassion and vision which has changed the lives of the host of volunteers who have served as well as the millions of patients and their families touched by the charity's free services," stated Mike Ullman, International Board Chairman, Mercy Ships.
The Africa Mercy, the world's largest private hospital ship, is currently docked in Benin, West Africa. Since August, 2016, the volunteer crew onboard have provided 1,793 free surgeries and trained 1,803 participants in medical capacity-building courses.
ABOUT MERCY SHIPS:
Mercy Ships uses hospital ships to deliver free, world-class healthcare services, capacity building and sustainable development to those with little access in the developing world. Founded in 1978 by Don and Deyon Stephens, Mercy Ships has worked in more than 70 countries providing services valued at more than $1.3 billion, treating more than 2.61 million direct beneficiaries. The Africa Mercy is crewed by 400 volunteers from up to 40 nations, an average of 1000 each year. Professionals including surgeons, dentists, nurses, healthcare trainers, teachers, cooks, seamen, engineers, and agriculturalists donate their time and skills to the effort. With offices in 16 nations, Mercy Ships seeks to transform individuals and serve nations one at a time. For more information click on http://www.mercyships.org
For More Information Contact:
For USA: Pauline Rick
US Public Relations Coordinator
Mercy Ships
Office Tel: (903) 939-7000
Mob: (972) 922-5442
Email: us.media(at)mercyships(dot)org
For Int'l: Diane Rickard
International Media Manager
Mercy Ships
Diane.rickard(at)mercyships(dot)org
Hi-res photos and general Mercy Ships B-Roll video footage are available upon request.