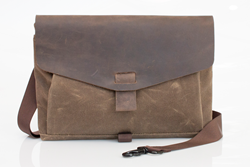 To complement the thin profile of the New Surface Pro, this version of the Solo has a sleeker look, yet can hold more accessories.
San Francisco, CA (PRWEB) May 23, 2017
WaterField Designs, a leading San Francisco manufacturer of custom-fitted laptop sleeves, bags and cases for digital gear, introduces the Outback Solo 2.0 — a refresh of the company's popular minimalist laptop bag, now with additional storage capacity and a similarly light and compact form. The new Solo 2.0 is custom-sized for Microsoft's New Surface Pro, and sizes for most MacBooks will soon follow. The meticulously-crafted waxed canvas and premium leather minimalist laptop case holds a computer or tablet and all accessories needed for a light day at the office or café.
"To complement the thin profile of the New Surface Pro, this version of the Solo has a sleeker look yet can hold more accessories," noted Gary Waterfield, company founder. "Your phone, power block, and cables can all fit in this compact carry case. I can tuck the Solo under my arm when I dash out for a quick cup of coffee, or with the strap, wear it over my shoulder for longer periods."
The rugged and compact Outback Solo cradles the New Surface Pro with two layers of protection — high-grade neoprene enveloped in highly water-resistant, waxed canvas. The full-grain, naturally-tanned leather flap closes firmly with an invisible magnet allowing for work-friendly silent access. Two pleated front pockets expand to hold a wallet, keys, adapter, cords, Surface Dial and other small necessities, and include two dedicated pockets within — one for a Samsung S8 series or similarly-sized phone and one for the Surface Pencil. When not filled to capacity, these front pockets remain flat. A new pull tab allows users to easily remove the computer from the case. A removable shoulder strap allows the bag to be worn crossbody or off one shoulder, or without the strap as a case, tossed under an arm or into another bag.
In addition to the Outback Solo, WaterField Designs offers an array of custom-fitted Microsoft and MacBook cases and sleeves—the SleeveCase and the Travel Express, and for Macs only: the Maxwell Sleeve and Suede Jacket.
Pricing & Availability
Outback Solo™
Price: $159. Removable shoulder strap included. Tan waxed canvas with full-grain chocolate leather flap. Pre-order now. Ships end of June.
Additional WaterField Designs Microsoft Surface Pro/Book and MacBook case pricing and availability at the company website.
About WaterField Designs WaterField Designs is an innovative San Francisco designer and manufacturer of bags and cases for tech-savvy consumers who want to stylishly and responsibly transport their technology. WaterField manufactures custom-fitted, high-quality cases and bags for a full-range of laptop computers, smartphones, tablets, gaming devices and other digital gear. All products are manufactured to exacting standards entirely in San Francisco. More information available at "Our Story".
---
WaterField Designs, SFBags, Outback Solo, SleeveCase, Travel Express, Maxwell Sleeve and Suede Jacket are trademarks of WaterField Designs. © 2017. All Rights Reserved.
Other company and product names may be trademarks of their respective owners.