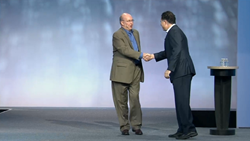 Gig Harbor, WA (PRWEB) August 10, 2017
Cloud X Partners ("Cloud X" or "CXP"), the leading SMB cloud platform that acquired Insynq and CloudRunner over the past 18 months as part of its push into the cloud computing space announced on Wednesday that it has appointed William Deal Daly as Chief Digital Officer. Deal brings an extensive track record of helping world-class organizations drive business agility, technical innovation and build high performing teams.
"We are thrilled to welcome Deal to the Cloud X team. He has years of experience driving exactly the kind of transformative ingenuity that complements highly-innovative projects, highlighted by his contribution towards innovative initiatives that have leveraged technology to create clear tangible value," stated Cloud X CEO Elliot Luchansky. "We are on a mission to significantly enhance what it means to work in SMB organizations as well as advisors in the SMB ecosystem. Deal has proven that he knows how to expedite that kind of journey. He brings a fresh perspective on technology strategy and operations, an undeniable track record as a mentor to rising stars in a variety of different technology-oriented organizations, as well as a strong grasp on how the technical pieces of the puzzle fit into the big picture from a business standpoint."
As a former executive at LexisNexis as well as the Director of IT Infrastructure at Intuit, Deal is very comfortable working in technology organizations catering to Professional Services verticals. Given CXP's strong position in the accounting and bookkeeping space – both Insynq and CloudRunner are part of Intuit's Commercial Hosting Program – Deal's prior experience at Intuit is a great match. It includes data center operations, building internal and hybrid cloud platforms for multiple businesses, automating technology processes and building and coaching high performing teams that lead in the innovation lifecycle.
"Make no mistake, CXP has significantly boosted its competitive edge by adding Deal Daly to our executive team," COO Michael Mazzeo added. "Deal is a known quantity when it comes to leadership and innovation in cloud architecture and operations. He has a clear track record of solving complex challenges at pivotal moments across multiple global software companies like Intuit, Ancestry.com and LexisNexis. "
"The challenges and opportunities at Cloud X are unique," Deal noted. "Cloud X has a well known brand and successful products, partnering with other industry leaders serving the financial services space. It is wonderfully exciting to join an excellent management team and a group of great engineers focused every day on helping our customers have a world-class experience."
In addition to his executive-level experiences at LexisNexis, Intuit, Ancestry.com, and Redapt, Deal has maintained a presence on a number of Advisory Boards (Dell's CIO Advisory Board, MoneyDesktop (MX), among others), and has taught technology management as an Adjunct Professor at the University of Utah Spencer Eccles School of Business Graduate Program. Deal speaks frequently at sponsored industry events helping C-level executives with guidance on technology innovation, team forming and culture management.
Deal is starting immediately, in Cloud X's Gig Harbor, WA office and will oversee the technology operations of the company.
Deal has spoken at a large number of industry events. The following list represents a small fraction of such speaking engagements:
About Cloud X Partners
Cloud X Partners (CXP) is a cloud computing Platform Company that was established by the private investment firm Elm Equity Partners in tandem with Elm Equity's acquisitions of Insynq and CloudRunner (now branded product lines). CXP by a group of more than two dozen high net worth and institutional investors.