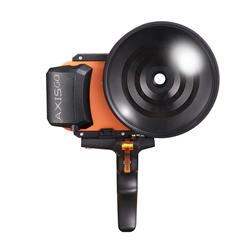 "We have been watching smartphone camera quality improve over the years, and the iPhone 7 put it over the top. AquaTech developed AxisGO for those desiring the highest quality professional system that is a portable, affordable alternative to a DSLR setup."
Huntington Beach, California (PRWEB) May 02, 2017
AquaTech Imaging Solutions has announced the new AxisGO - the ultimate smartphone imaging solution the watersports market has been waiting for since waterproof cases and housings began hitting the market. Launching and shipping this month, the iPhone housing and accessories have been designed and rigorously tested to ensure AxisGO is the total package for aspiring to professional water photographers and videographers.
The AxisGO platform begins with an exceptionally robust housing constructed from both polycarbonate and machined aluminum materials, providing extraordinary impact resistance, strength, stiffness, and excellent UV stability. It is built with an ergonomic grip, top and bottom mounting brackets and a removable flat port that accommodates accessory lenses. With an impressive feel in the hands, shooters can confidently capture images and video down to 33 feet / 10 meters deep. The base housing comes in tactical green, sunset orange, and seashell white, and includes a quality neoprene bag, lanyard, maintenance kit, and retails at $249.00.
The products are designed and manufactured by AquaTech, the global leader in sport water housings since 1998. With a dedication to both innovation and customer service, the team at AquaTech, led by company owner and long-time water photographer Alan Love, spent countless hours developing and testing the products. The staff from both Australia and the U.S. worked with top photographer ambassadors to gather feedback and work toward the optimal solutions. "We have been watching smartphone camera quality improve over the years, and the iPhone 7 put it over the top. So we developed the AxisGO for those desiring the highest quality professional system that is portable, affordable, and a great alternative to a DSLR setup," noted Love.
The key upgrades and design features incorporated into to the AxisGO include:
· Functional touchscreen membrane
· Interchangeable lens port
· Robust top and bottom mounting brackets
· Pistol Grip kit
· Professional quality accessory lenses
· Optical glass
· Anti-reflective and hydrophobic glass coatings
Usable Touchscreen and Go Live Capability from the Water
A functional touchscreen membrane was designed for ease of use and immediate "go live" opportunities from the water. Also, this means no proprietary apps, so photographers can use the native iPhone camera app or any other photo-editing app right from the water without removing the phone from the housing. Users can swipe, tap, pinch, and zoom the touchscreen to control the phone as normal, as well as make and receive calls at the water's surface.
Pistol Grip and Accessory Lenses
While the housing combined with the iPhone is an excellent robust product for those wanting to shoot in the water and protect their smartphone, a full line of accessories have been methodically developed to turn the AxisGO into a truly professional solution. The AxisGO mechanical pistol grip is designed to feel balanced and solid, with special attention to withstand the extreme conditions surf and adventure photographers encounter daily. The ergonomic trigger executes an immediate shutter response, ensuring photographers capture the image at the crux moment with no delay.
Three lenses include a 140° wide-angle lens port, 6" dome port, and 6" 140° wide-angle dome port which are available in May and range in price from $99.95 to $199.00. Two additional lenses will debut in August – a 100° wide-angle lens port and a 100° wide-angle dome. The dome ports are oversized to optimize the image quality of the popular over under photos at the waterline, as well as underwater.
What's In the Box:
· AxisGO Sport Housing with Standard Lens Port
· Protective Soft Case
· Wrist Lanyard
· O-Ring Grease Tube
· O-Ring Removal Tool
· Instructions / Setup Card
Customers can pre-order online at http://www.axisgo.com, with product shipping the last week of May.
About AquaTech
Founded in 1998, AquaTech has been at the forefront as the leading designer and manufacturer of a full line of professional photographic equipment, specifically for water and extreme environments. Known for their heritage in sport housings, AquaTech products are used by the top photographers in the world of diverse genres including: surfing, sailing, documentary, fashion, fishing, Olympic water sports, and more. With products for photographers, by photographers, AquaTech's offices are located in Thirroul, Australia and Huntington Beach, California. To learn more about AquaTech, log on to http://www.aquatech.net.