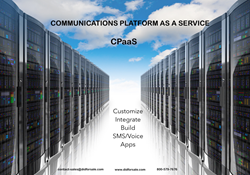 Irvine, California (PRWEB) May 25, 2017
Noted business VoIP telephony service provider DIDforSale is now making quick grounds with their Communications Platform as a Service (CPaaS). This highly efficient communication platform delivered by the company has helped many businesses add real-time communication capabilities such as voice and messaging to their business workflows by deploying Application Program Interfaces (APIs). A subsidiary of Cebod Technologies LLC, DIDforSale has carved a niche in the business telephony marketplace by offering quality service at an affordable rate with minimum call drops, lags, and echoes.
Technically speaking, CPaaS can be referred to as a communications software solution that can be utilized by the developers as a foundation to integrate a wide range of applications. API or Application Programming Interface is a key element behind the functionality of CPaaS. This is a set of programming instructions and standards to access web based software. In simple words, an API defines how different web based applications talk to one another. It is possible to embed the common methods of communication such as voice, video calling, or text messages through APIs connected to the CPaaS platform.
With their CPaaS platform, DIDforSale offers simple solutions with robust functionality for Voice, SMS and SIP connectivity. This platform helps users create custom business communication solutions without having the actual communication platform/infrastructure. DIDforSale has also been instrumental in assisting cloud enabled businesses deploy SMS, and voice communication with better security, authentication, flexibility and scalability. Developers can leverage DIDforSale CPaaS to implement communication workflows for notifications, reminders, system alerts, voice and SMS integration, authentication service, call back functionality, and much more.
Some other benefits of CPaaS include

Helps developers save on human resources, infrastructure, and time to market.
Affordable pricing models that allow developers to pay only for the services used
Improved technical support
Allows developers to focus on applications instead of the underlying IT infrastructure
According to many industry heavyweights, the market growth for CPaaS is expected to be $8.1B by the end of 2019. DIDforSale has joined the bandwagon at a time when the market is expected to explode very soon.
To find out more about DIDforSale and their service, please visit http://www.didforsale.com/
About DIDforSale: A VoIP service provider for businesses, DIDforSale is a subsidiary of Cebod Technologies LLC, based in California, USA. They take pride in providing quality service to the customers at an affordable rate. Their network is optimized to minimize call drops, lags, and echoes. The company partners with quality service providers both in the US and all over the world to handle calls with extraordinary call clarity.
Contact:
Website: http://www.didforsale.com/
Email: contact-sales(at)didforsale.com