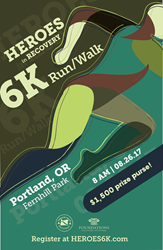 To be included in the inaugural Portland 6K is not only an honor to Central City Concern, but also to those we serve, said Dr. Rachel Solotaroff
Portland, OR (PRWEB) August 21, 2017
Heroes in Recovery, a movement celebrating the heroic efforts of those who seek treatment for mental health and addiction, is hosting its first annual 6K run/walk in Portland. The race is a 6K, not a 5K, which not only represents the six letters in the word "HEROES," but also symbolizes the extra distance people in recovery go to achieve a healthier lifestyle. Heroes in Recovery was ignited by Foundations Recovery Network (FRN), a family of treatment centers, which includes inpatient and outpatient treatment centers located across the United States.
The Heroes race in Portland will also benefit local charity Central City Concern, an agency serving single adults and families in the Portland metro area who are impacted by homelessness, poverty and addiction. Central City Concern meets its mission through innovative, outcome-based strategies which support personal and community transformation.
"To be included in the inaugural Portland 6K is not only an honor to Central City Concern, but also to those we serve," said Dr. Rachel Solotaroff, Chief Medical Officer and Interim President/CEO of Central City Concern. "As a runner myself, I know there is no better way to build community and resilience than putting in a few miles together."
The Heroes 6K will be held on Saturday, August 26 at 8:00 am in Fernhill Park in Portland. The race starts and finishes at Fernhill Track and takes participants on a country-style 6K (3.728 mile) winding course. All registered participants will each receive a race tank, finisher's medal, reusable bag and souvenir bib. This is a family-friendly event and will include post-race food, entertainment, kids' activities, cash prizes for placers and raffles for participants and spectators. Early registration for all races is $25, regular registration is $30 increasing to $35, and day-of-race fees are $40.
For more information and to register for the event, go to: http://www.heroes6K.com.
About Heroes in Recovery:
According to the Substance Abuse and Mental Health Services Administration (SAMHSA), 23 million people needed treatment last year and only three million sought help. Ten million Americans did not receive needed mental health care. The stigma associated with substance abuse and mental health disorders creates a significant barrier that keeps individuals and families from seeking help.
Heroes in Recovery is a grassroots movement intended to remove the social stigma associated with people who are in recovery, to recognize the heroic effort it takes to overcome the obstacles in seeking help and to celebrate the act of preventing the past from kidnapping the future. While the movement initially focuses on persons recovering from addictive behavior, it is meant also to recognize heroes recovering from many other types of disorders and trauma that can often accompany an addiction.
Each Heroes in Recovery 6K race serves as an educational tool for the community and also reminds individuals who are on a personal journey of recovery that many others are on that road with them.