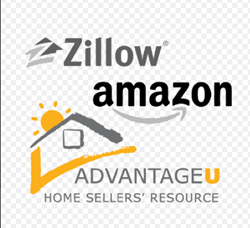 Service giants that rely on computer algorithms cannot take into account the personal and unique circumstances of individual home sellers and buyers.
Rochester, NY (PRWEB) August 08, 2017
AdvantageU Home Sellers resource is delighted to announce the launch of its new website designed to offer free premium services to anyone looking to sell or buy a home. AdvantageU is a consumer resource established with the primary aim of assisting residential home sellers and buyers navigate the complex world of real. AdvantageU provides free resources to help homeowners make better choices necessary for selling their home quickly and for full market value. The key advantage offered is helping consumers get connected to pre-qualified, AdvantageU certified agents in their local markets.
The personalized services offered by the company are focused on providing home sellers or buyers the opportunity to reduce time & effort, discover available options, limit uncertainty & risk and make smart decisions about achieving their real estate goals. In the bid to achieve this laudable aim, AdvantageU researched the most qualified and talented real estate professionals with years of experience and proven track records of success.
Advantageu understands that the real estate industry is where the big guys like the giant Zillow dominates and now the behemoth Amazon has jumped into the competitive fray. But when we consider the fact, reported by the National Association of Realtors, that nearly two-thirds of home sellers found their agent through a personal referral, the value of the human touch is made clear. The experienced and well trained team at AdvantageU strongly believes that with its personalized services those giants of the industry can't compete against a more nimble small company like Advantageu.
The competitive advantage which AdvantageU has over these giants in the industry is based on the provision of personalized services which include:

Customer service and consumer advocates right here in the USA.
On-on-one, daily engagement with the real estate agents they recommend.
Personalized interaction with real people.
Much more than simple computer algorithms that use zip-codes to connect sellers/buyers with agents.
Real people proactively follow-up to confirm satisfaction, not just static online reviews.
In tuned to the local markets with up to the minute insights about the local markets.
Always free to consumers, with lots of other free resources and tools to make the entire real estate process easier.
Monica Monte, the Chief Marketing Officer of Advantageu says; "Our selling proposition is the delivery of personalized and interactive services to our valued customers. The relationship between a real estate agent and the home seller or buyer is a very personalized decision. We anchor on this to ensure that we understand the unique situation, goals and past experience of our customers. After that, we provide a real live advocate with the homeowners' best interest in mind who can match them with pre-interviewed, pre-qualified agents. We don't just send consumers to any agent who pays. In fact, they get an agent Certified by a team of real estate professionals at AdvantageU
For more information about AdvantageU visit https://advantageu.com.