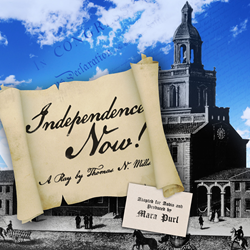 Understanding our national roots is critical to the future success of our country and of its citizens.
San Luis Obispo, California (PRWEB) July 04, 2017
American Heritage Publications will launch its new website on Independence Day by offering its new audio production – Independence Now! – with well-known voice actors and a spectacular original music score. The new production includes fresh research into founding documents, and features an important female historian whose voice has been silent for two hundred years.
In honor of the national holiday, the company is offering a free download of its new audio production of Independence Now! by using the special code "INDEPENDENCE".
American Heritage Publications may be a new publishing company, but its founders have a long history of excellence in the fields of performance and education. Current and future products will appeal to general audiences, but are designed in particular for the educational market.
"We're absolutely thrilled," said co-founder and Executive Producer Beverly Manning Mills. "Launching our new website gives us the platform we've always wanted for offering our plays and teaching materials to a much wider audience."
"Understanding our national roots is critical to the future success of our country and of its citizens," commented co-founder and writer Thomas N. (Tim) Mills. "Students and teachers alike need a fresh take on the familiar old sayings and founding documents. They need a way to see the relevance of decisions and events of the past, a way of bringing history to life today."
Indeed, "History Brought to Life" is the stated mission of the new company. The first two of several fully-produced audio productions of their plays prove their point. The Gathering Storm in America—whose web page shows an intriguing "Time line"—shows the forces at work before the original thirteen colonies reached the tipping point that would lead to the American Revolution.
The playwright of the original offerings from American Heritage is Tim Mills. With a life-long love of theatre, which began when he was a drama student, took him to New York City and landed him a spot at the renowned HB Studio, where he studied with Herbert Berghof and Uta Hagen. As he continued to perform in theatres in New York and around the country, he also began writing and producing plays, eventually taking the helm of the famous Bird Cage Theatre at Knotts Berry Farm. It was here that he met his future partner Beverly Manning, and began to create a series of plays about the founding of America that would reach hundreds of thousands over a period of years in one of the nation's iconic theme parks.
Co-founder Beverly Manning Mills is an expert in instructional design with a passion for developing interactive programs for students of all ages. Beverly created Adventures in Education tour programs at Knott's Berry Farm, and has been a teacher and developer of web-based educational curriculum for many years. Beverly has a profound understanding of how students learn, and of how best to create dynamic tools for teachers. "We're starting by offering audio productions of the plays," she explained. "But our goal is to create accompanying curricular materials that will transform the experience of learning about American history for students all over the country."
Tim and Beverly Mills located a professional audio production company in Los Angeles to produce their audio plays. Haven Books Audio, established in 1997, has produced numerous award-winning audio books and audio dramas. Its creative team created Milford-Haven USA in 1987, which became the first American radio serial ever broadcast by the BBC, finding an audience of over four million listeners.
They worked with audio producer, actor and author Mara Purl, who rounded up a stellar cast of voice actors for the project. "One of the marvelously unique aspects of the Mills' project is that every single character is a real historical figure," remarked actress Mara Purl. "I was truly honored to be cast as Mercy Otis Warren. She was a great friend of Abigail Adams, and was actually the first historian to record some of the key events of this crucial period in our nation's history. She was there. She saw it first hand, and shared not only her observations but also her feelings, and those of the other players on this world-stage."
Purl brought in the well-known composing team, Marilyn Harris and Mark Wolfram, to create an original score for the plays. By turns haunting, inspiring, joyful, and poignant, this unique collection of music has lately been released through Wrightwood Records as "Colonial Scenes: Music inspired by the American Revolution". The composers have distilled the musical essence from this pivotal time in the birth of the United States of America into a satisfying musical collection. Influences of marching, piping (both American & British), dancing in the salon, communicating sorrow, loss, nervous anticipation and remembrance, these musical selections bring you back to a time when saluting the Stars & Stripes meant freedom and independence...but it could also mean treason - and death!
Other actors appearing in the audio productions include the following, with just a few of their many credits:
Abbott Alexander: (stage) John F. Kennedy in Presidential Suite, Spoon River Anthology, Falling Upward!, (TV) Without a Trace, The Practice, and (Film) Karate Kid.
James Horan: (stage) Phantom in Phantom of the Opera, Dracula in Dracula, Richard in Richard III; (TV) Star Trek, 24, Criminal Minds, Lost, and (Film) Flags of Our Fathers, directed by Clint Eastwood. James is also known for his portrayals of George Washington, and Thomas Jefferson.
Bobby Huntley: Author of the Iron Relic Series; Actor at the San Gabriel Music Theatre.
Roger Kern: (Stage) The Kentucky Cycle (Mark Taper Forum). (TV) Young Pioneers, Falcon Crest, Spider-Man, Coach, Star Trek, and (Film) The Running Man with Arnold Schwarzeneger.
Christopher Law: (Stage) Sea Marks. (TV) Mac and Me; Hawaii Five-O, Night Gallery, and (Film) Pearls to Swine.
Christopher Lowell: (Stage) Ben Franklin Live national and international performances.
Holger Moncada: (TV) Jane the Virgin, Hand of God, Scorpion, and (Film) Independents' Day, American Folk.
Donal O'Sullivan: (TV movie) The Apostle Paul: The Man Who Turned the World Upside Down; Mad City with Dustin Hoffman.
Eleanora Avakian Owen: (Film) The Busker, Intolerable.
Tim Byron Owen: (TV) Days of Our Lives, The Young and the Restless, Superior Court, and (Film) The Hotel Franklin, Sam Steele and the Crystal Chalice.
Mara Purl: (Stage) Sea Marks, Mary Shelley In Her Own Words, Becoming Julia Morgan, and (TV) Days of Our Lives, and (Radio) Milford-Haven USA BBC radio drama lead character, (Voice Actor) multiple audio books and national radio commercials.
Ilona Stone: (Radio) KCBX radio host; SABC (South Africa Broadcasting Corporation) radio drama performer; Milford-Haven USA (BBC radio drama performer), (Voice Actor) multiple audio books.
Contact: Beverly Mills, American Heritage Publications, 805-439-1039 Hello(at)AmericanHeritagePublications(dot)com
PR Contact: Reya Patton, Haven Books 818-813-7429 Reya(at)HavenBooks(dot)net
Visit American Heritage Publications Facebook Page