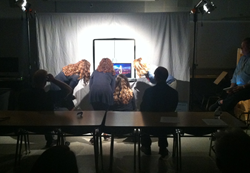 There simply is no better way to improve as a photographer than to enter competition.
Atlanta, GA (PRWEB) August 08, 2017
Professional Photographers of America (PPA) has announced the results from its annual International Photographic Competition (IPC). A panel of 33 jurors from across the United States selected the top photographs from nearly 5,800 total entries from July 30 to August 2 at Gwinnett Technical College in Lawrenceville, Georgia.
Judged against a standard of excellence, 2,660 images were selected for the General Collection and 644 (roughly 11% percent) were selected for the esteemed Loan Collection—the best of the best. The Loan Collection images will all be published in the much-anticipated "Loan Collection" book and selected General Collection images will be published in the "Showcase" book by Marathon Press.
Images accepted into the General and Loan Collections will also be on display at the Gaylord Opryland Resort in Nashville, Tennessee, Jan. 14-16, 2018, during Imaging USA, the annual convention and trade show for professional photographers. These images constitute one of the world's largest annual exhibits of professional photography gathered simultaneously under one roof. Also at Imaging USA 2018, the best of the best of the images will be announced at the esteemed Grand Imaging Awards.
Critiques from the IPC judges were available upon request, with more than 2,660 ordered this year. The critiques are offered as a way to help participants find areas of improvement and prepare for future photo competitions.
This year's judging of the IPC was streamed live online over the four days. For the third year in a row, PPA included a live broadcast with host Booray Perry, Craftsman Photographer and Certified Professional Photographer, to enhance the stream experience and help demystify the competition. PPA hopes this all leads to more entries for next year's competition.
"There simply is no better way to improve as a photographer than to enter competition. You learn so much during the preparation of the entry and after the fact when receiving the critiques of the images," said IPC chairman, Doran Wilson, M.Photog.MEI.Cr., CPP, F-ASP.
This photographic competition challenges photographers to grow their artistic and technical skills by creatively capturing and presenting their best images, and by doing so, improving the marketability of their businesses. To view full results of the International Photographic Competition, visit PPA.com/IPC.
About PPA:
Professional Photographers of America (PPA) is the largest international nonprofit association created by professional photographers, for professional photographers. Almost as long-lived as photography itself, PPA's roots date back to 1869. It assists 30,000 members through protection, education and resources for their continued success. See how PPA helps photographers be more at PPA.com.