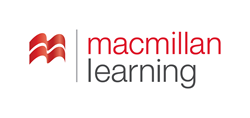 This partnership enables us to lower a barrier of entry to higher education by giving students the resources they need, at a price they can afford. -Susan Winslow, Managing Director
New York, NY (PRWEB) August 07, 2017
Macmillan Learning, a premier educational content and digital solutions company, today announced a partnership with Barnes & Noble Education, Inc. (NYSE:BNED) to provide students with low cost, rental options of popular Macmillan Learning textbooks and digital solutions. Starting this fall, this selection of Macmillan Learning titles will only be available to rent through all Barnes & Noble College stores across the US. This new option will deliver significant savings for students and enable them to be fully prepared with their required materials as they enter their college courses.
"We are committed to providing the best quality content and course tools at the most affordable prices for students," said Macmillan Learning CEO Ken Michaels. "Educators continue to tell us three of the most critical challenges students face are affordability, preparedness, and course success. By partnering with Barnes & Noble on this consignment rental program, we are giving students immediate, affordable access to the materials they need to be successful in their courses. Importantly, students also no longer have to choose between print rentals or digital options. They can now rent both together through this program."
In addition to the cost savings, this rental program enables students the option to upgrade to continued access to the content by purchasing an eBook or loose-leaf textbook for a substantially reduced price. Thus, students will retain access to the learning materials they value even after the rental period and course concludes.
"All of our recent data supports that students' success increases when they have the right materials on day one of their courses," said Macmillan Learning Managing Director Susan Winslow. "This partnership enables us to lower a barrier of entry to higher education by giving students the resources they need, at a price they can afford."
To learn more about Macmillan Learning's affordable options, go to http://www.macmillanlearning.com/affordable-solutions. To learn more about Barnes & Noble Education, visit: http://www.bned.com.
About Macmillan Learning:
Macmillan Learning improves lives through learning. Our legacy of excellence in education continues to inform our approach to developing world-class content with pioneering, interactive tools. Through deep partnership with the world's best researchers, educators, administrators, and developers, we facilitate teaching and learning opportunities that spark student engagement and improve outcomes. We provide educators with tailored solutions designed to inspire curiosity and measure progress. Our commitment to teaching and discovery upholds our mission to improve lives through learning. To learn more, please visit http://www.macmillanlearning.com or see us on Facebook, Twitter, LinkedIN or join our Macmillan Community.
About Barnes & Noble Education:
Barnes & Noble Education, Inc. (NYSE: BNED), one of the largest contract operators of physical and virtual bookstores for higher education and K-12 institutions across the United States, one of the largest textbook wholesalers, and a leading provider of digital education services, enhances the academic and social purpose of educational institutions. Through its Barnes & Noble College and MBS subsidiaries, Barnes & Noble Education operates 1,481 physical and virtual bookstores and serves more than 6 million students, delivering essential educational content and tools within a dynamic retail environment. Through LoudCloud, its digital education platform, Barnes & Noble Education offers a suite of digital software, content and services that include predictive analytics, OER courseware, competency-based solutions and a learning management system. Barnes & Noble Education acts as a strategic partner to drive student success; provide value and support to students and faculty; and create loyalty and improve retention, all while supporting the financial goals of college and university partners. General information on Barnes & Noble Education, Inc. can be obtained by visiting the Company's corporate website: http://www.bned.com.