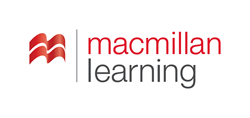 Creating high-quality course materials is only part of the equation. We have to make sure we are getting the materials in students' hands so that they can thrive and achieve academic success. -Macmillan Learning CEO, Ken Michaels
New York, NY & Santa Clara, CA (PRWEB) August 21, 2017
Macmillan Learning, a premier educational content and digital solutions company, today announced a partnership with Chegg (NYSE: CHGG), the Smarter Way to Student, to provide students with attractively-priced rental options of popular Macmillan Learning textbooks and digital solutions. Beginning this fall, the partnership will allow Chegg to offer students
the cost-saving option of renting select Macmillan Learning textbooks at up to 55% off of what would have been the cost of purchasing a new textbook, ensuring students have the course materials they need to succeed. This consignment rental partnership will deliver significant savings for students and enable them to be fully prepared on day one of the term.
Commenting on the partnership, Macmillan Learning CEO, Ken Michaels stated, "Creating high-quality course materials is only part of the equation. We have to make sure we are getting the materials in students' hands so that they can thrive and achieve academic success. Together, with Chegg, we are lowering the barriers to learning success by increasing access and inclusiveness."
In addition to the cost savings, students have the option to rent both print and digital books through this program, depending on what works best for their educational path.
"Saving students money is a pillar of our mission at Chegg. Our longest standing business is renting textbooks and e-books, and we engage with millions of students as they go back to school every year. This service provides students affordable options – which we believe students today need more than ever. Through this partnership, we are able to offer better pricing for new editions of textbooks, increasing the savings for students," said Nathan Schultz, Chief Learning Officer, Chegg.
"A core element of our mission at Macmillan Learning is to widen the path to a college education by making our materials more affordable and accessible," said Macmillan Learning Managing Director Susan Winslow. "We are pleased to partner with Chegg to provide students with a wide variety of quality learning materials that are in line with the financial needs of today's students."
To learn more about Macmillan Learning's affordable options, go to http://www.macmillanlearning.com/affordable-solutions. To learn more about Chegg, visit: http://www.chegg.com.
About Macmillan Learning:
Macmillan Learning improves lives through learning. Our legacy of excellence in education continues to inform our approach to developing world-class content with pioneering, interactive tools. Through deep partnership with the world's best researchers, educators, administrators, and developers, we facilitate teaching and learning opportunities that spark student engagement and improve outcomes. We provide educators with tailored solutions designed to inspire curiosity and measure progress. Our commitment to teaching and discovery upholds our mission to improve lives through learning. To learn more, please visit http://www.macmillanlearning.com or see us on Facebook, Twitter, LinkedIN or join our Macmillan Community.
About Chegg:
Chegg puts students first. As the leading student-first connected learning platform, the company makes higher education more affordable, more accessible, and more successful for students. Chegg is a publicly-held company based in Santa Clara, California and trades on the NYSE under the symbol CHGG. For more information, visit http://www.chegg.com.