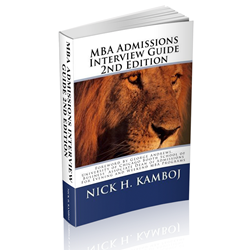 ...It is never a question of IF you will be accepted to a top-tier MBA program, but only a matter of WHEN. – Author Nick H. Kamboj
Chicago, IL (PRWEB) April 11, 2017
The U.S. News & World Report and other reputable news sources state that admissions to top-tier business schools become increasingly more challenging. Acceptance into a top-tier MBA program in the U.S. is statistically between 3-16%. This means that out of every 100 prospective MBA applicants, only 3 to 16 individuals will get acceptance offers.
One of the most crucial and decisive factors in the business school's decision to accept a prospective MBA candidate, is the face-to-face interview. Former University of Chicago Booth School of Business Admissions Committee Member, Interviewer and Guest Lecturer, Nick H. Kamboj has interviewed hundreds of prospective business school candidates. Author Nick H. Kamboj has taken his vast experience in body language interpretation, strategic interviewing and effective communication, and developed a highly effective and persuasive MBA admissions interviewing framework.
"Getting into a Top Ten MBA program in the U.S. last year was slightly harder than it was only a year earlier. An analysis of acceptance rates at leading business schools showed that Top Ten schools admitted just 15.6% of their applicants last year, the lowest level in at least four years. A year earlier, Top Ten schools accepted 16.4% of their applicant pools, while in 2012, they admitted 17.0%," according to, PoetsandQuants.com
Few personal and professional ventures can be more daunting or more rewarding than gaining acceptance into an applicant's dream MBA program. The competition and the preparation have become extremely fierce, and nearly all prospective business school applicants are searching for the competitive edge to crack the code and tilt the odds in their favor.
"Salaries continue to increase for students graduating from top tier MBA programs, with graduates from schools such as Chicago Booth and Stanford reporting salaries over $300,000. As one can imagine, these incentives cause people to seek out any advantage they can obtain over their peers. Applicants hire coaches, paying tens of thousands of dollars for their advice and counsel. But what if you are not one of those fortunate enough to come from the elite strata that can afford such an investment? … I can think of no better way to prepare for the MBA interview than to read and employ the contents in this book [MBA Admissions Interview Guide]," states George C. Andrews, the former Associate Dean of Evening MBA & Weekend MBA Programs University of Chicago Booth School of Business.
"Research shows that interviewers make an initial decision about candidates in the first few minutes. I am making my E-book MBA Admissions Interview Guide $0.99 cents for a limited-time to reach a broader audience of prospective business school candidates who require highly specialized and effective interviewing acumen to ace even the most daunting business school admissions interview. Over the past 10 years, I have advised many candidates to achieve unprecedented business school admissions interviewing success. My own personal success in graduating from a top-tier business school as well as the success of my clients, allows me to state with confidence, that for me, it is never a question of IF you will be accepted to a top-tier MBA program, but only a matter of WHEN." – Author Nick H. Kamboj
Packed with high-value practical guidance to deliver outstanding MBA Admissions Interviews; Some of the practical tips business school applicants will find in the MBA Admissions Interview Guide are:

Practice With Real MBA Admissions Interviewer Questions
Rehearse With Detailed & Polished Recommended Responses
Navigate The MBA Interview Jungle With Confidence
Understand The MBA Admissions Interviewer Archetypes
Learn And Implement Influential Body Language Techniques
Communicate Effectively During & After The Interview
Avoid The Most Common MBA Admissions Interview Pitfalls
Read Your Interviewer And Adjust Your Responses In Real-Time
Through the strategic advice and techniques in this book, the reader will easily navigate their way through the top-tier MBA Admissions Interview process and will leave a lasting impression on their MBA Admissions Interviewer. This book provides the MBA candidate the ultimate competitive advantages to navigate the MBA Admissions Interview jungle.
What others are saying,
"Mr. Kamboj's advice is succinct, honest and dependable. Reading this book gave me the confidence to ace every interview! I would definitely recommend every prospective MBA student to read this book!" Saachi S. And from Lisa J., "I was confused about the process until I found Mr. Kamboj's book - I'm much more confident now!"
About Nick H. Kamboj
Over the span of the last 10 years, Mr. Kamboj has advised hundreds of individuals on how to successfully gain admissions to the world's most elite business schools. His success with his clients has been extraordinary, for they have been hired by top-tier organizations and admitted to world renowned top-tier educational programs. In many instances, his clients have not only been accepted to more than one business school, but have also received significant scholarships with their offer. Furthermore, while serving as a member on the Admissions Committee at the University of Chicago Booth School of Business, Mr. Kamboj interviewed countless individuals for admissions into the MBA program.
Mr. Kamboj is also the author of 6 books and is a former Guest Lecturer at The University of Chicago Booth School of Business. Mr. Kamboj has held senior leadership and executive positions at Microsoft, Accenture, and Xerox. Mr. Kamboj continues to also serve as a Legal Expert for Intellectual Property (IP) infringement and litigation cases, as well as an academic consultant.
Mr. Kamboj taught The Executive Program In Information Technology (EPIT) at Booth to CEO's, CIO's and other C-Suite Executives from 2004 to 2014. The following is a sample of the organizations whom have attended Nick's lectures: McDonald's, Starbucks, Microsoft Corporation, Amazon.com, Kraft Foods, Sprint, Allstate, Motorola, Walgreens, Bank of America, Wells Fargo Bank, Carnival Cruise Lines, HSBC, Baxter, KPMG, Chicago Mercantile Exchange, Boston Consulting Group, Eli Lilly & Co., R.R. Donnelley, Gap, Progressive Insurance and U.S. Cellular.
Mr. Kamboj is a certified PMP by the PMI and also holds the ITILv3 Foundation certification. In addition, Mr. Kamboj is also the recipient of the Microsoft Most Valuable Player Award, Microsoft CPE Award, Microsoft Pinnacle Award, Employee of the Year Award (LANAC Technology Corporation), Chandler Case Award (University of Chicago Booth School of Business), Bright Idea Award (LANAC Technology Corporation), Implementation Award (LANAC Technology Corporation), Global Awareness Award (University of Chicago Booth School of Business), and has also received two Governor commendations.
Mr. Kamboj received his MBA from The University of Chicago Booth School of Business (Honors), M.S. Computer Information Systems from Northwestern University (4.0/4.0), and his Bachelor of Science in Electrical Engineering from The University of Wisconsin-Madison. Mr. Kamboj also completed a term of Intellectual Property Law studies at The London School of Economics (High Marks).
Twitter Link https://twitter.com/nkamboj
Facebook Link https://www.facebook.com/AuthorNickKamboj
Amazon Link http://bit.ly/MBAAdmissionsInterviewGuideEBook