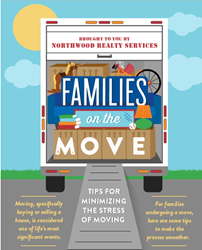 Our goal for creating this guide was to share the most helpful, proven ideas available for families considering or experiencing a move.
Pittsburgh, PA (PRWEB) August 22, 2017
According to Northwood Realty Services, "how to ease the stress when moving with kids" is one of the most frequent challenges their expert agents are asked to help solve for buyers and sellers alike. Recognizing that resourceful moms are always finding new ways to cope, six Northwood agents (who are also moms) recently collaborated with 10 mom bloggers from western Pennsylvania and eastern Ohio to discover their best solutions, tips, tricks, and life hacks for moving with kids. Together, they compiled a list of the 'best of the best' ideas, which is now available via "Families on the Move," an infographic from Northwood at:
http://www.northwood.com/blog/best-tips-tricks-and-life-hacks-for-moving-with-kids-infographic/
The tips cover everything from creative ways to ensure that sellers are ready for a last-minute showing, to how to deal with inevitable clutter from kids. For home buyers with children, ideas include ways to involve kids in selecting a new home and how to spot potential child safety issues. Once it's time for the transition, the solutions continue with suggestions on how to make sure kids feel at home as quickly as possible.
"Moving consistently ranks as one of life's most significant events, and our agents see firsthand that if you're buying or selling a home and you have kids, stress levels can skyrocket. Our goal for creating this guide was to share the most helpful, proven ideas available for families considering or experiencing a move," said Tom Hosack, president and CEO of Northwood Realty Services. "The ideas this team generated are timeless, relevant and useful for all types of families, whether they're moving around the corner or across the globe – next week, or in five years."
In addition to contributing to the "Families on the Move," tips, each mom blogger in the group created a personal post to share her family's unique suggestions and perspectives. Some of the extra tips include:

"Consider boarding your pets during the actual moving day(s) so you have one less thing to think about during the chaos. You can't board chickens unfortunately and they were hands down the most stressful part of our move!" - Becky, 'Lil Burghers
"Color code your boxes with duct tape. This helps identify boxes quickly. This works even for little ones who aren't yet readers and they can help guide where things belong in the new house," - Danielle, Happenings of the Harper Household
All participating mom bloggers included:

Brynne - Femme Frugality
Beckly - 'Lil Burghers
Mary Beth - Cupcakes to Crinoline
Stefanie - Lexie Loo, Lily, Liam and Dylan, Too
Amanda - Old House to New Home
Carissa – The Green-Eyed Lady Blog
Jacquie - The Sweeter Side of Mommyhood
Rachel – Third Stop on the Right
Danielle - Happenings of the Harper Household
Stephanie - My Not So Little Guy & My Little Punky & Pumpkin Pies
About Northwood Realty Services
Founded in 1956, and celebrating 60 years of service, Northwood Realty Services is one the region's largest real estate services providers, serving customers across 30 counties from 39 offices in Western Pennsylvania and Eastern Ohio. Northwood and its affiliates provide clients with full-service real estate solutions that cover every step of the home buying and selling process. Northwood consistently leads the industry by employing new technologies, best-in-class training and experienced leadership to ensure that its agents are positioned to assist buyers and sellers with unparalleled customer service. Northwood has earned a reputation for integrity, accountability and hard work. Guided by these principles and a desire to serve others, Northwood agents are changing the face of real estate.
For more information about Northwood Realty Services visit: http://www.northwood.com/