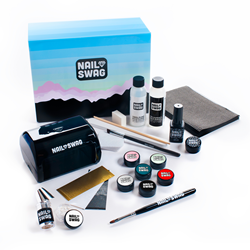 "I think everybody needs to have a creative outlet, and for me nail art is one of the most fun ways to express yourself." -Natalie Minerva
Los Angeles, California (PRWEB) May 15, 2017
Natalie Minerva, award-winning celebrity nail artist and creator of the Nail Swag brand, is bringing home a unique nail experience with The Nail Swag Kit, her exclusive collection of nail gel and art supplies. The kit is comprised of seasonal gel colors, nail art innovations, and everything else needed to get a beautiful salon-quality manicure at home…and Natalie is including an LED Lamp for free!
The limited-edition kit is exclusively available at http://www.NailSwag.com.
Natalie's fans know that Nail Swag brings the fun wherever it goes. That's why Nail Swag's first release is called Palm Sprung. Inspired by the aesthetic and culture of Palm Springs, it features a wide variety of colors and nail art supplies that capture the vibe of a desert staycation. Palm Sprung is the first of many themed kit releases by Nail Swag.
The Nail Swag Kit exclusively introduces Kotta Gel, a highly pigmented, odor-free formula with a buttery smooth feel. The brush and pot method of nail painting, one of Natalie's biggest discoveries, is now being introduced to her fans all over the country with Nail Swag's Kotta Gel. This method allows for better control and easier application.
"My clients come into Nail Swag every day with great ideas, and my job is to help their nail dreams come true," says Natalie. "I think everybody needs to have a creative outlet, and for me nail art is one of the most fun ways to express yourself."
Diving into the world of nail art can be overwhelming, and the magic effects trending in social media seem impossible to figure out. Until now, going to the salon has been a pricy indulgence. Natalie's changing the game with Nail Swag. With her instructional videos and helpful pro tips, Natalie reveals the secrets behind nail art trends.
Nail Swag's Palm Sprung kit includes enough product for at least twelve unique manicures or pedicures and features the following products:
Kotta Color Gels (Palm Sprung Release):

Sunset – the perfect summer red
Prickly Pear – a hotline bling pink
Saguaro – a teal from Hollywood's golden age
Aloe – a refreshing mint green
Cloud 9 – crisp, clean, and softer than clouds
Mod Squad – black is the new black
Nail Art Innovations (Palm Sprung Release):

Stardust – A lustrous flake that makes nails look like jewelry
Mineral Foil – A silver metallic foil for chrome and cracked metal effects
Stickers – Black, white, and gold straight line stickers that create buildable geometric designs
Nail Art Supplies:

9W LED Lamp (totally free)
Kotta Gel Base Gel
Kotta Gel Top Gel
Kotta Gel Brush
Kotta Gel Cleanup Brush
100% Pure Acetone
99% Isopropyl Alcohol
Nail File
Buffer
Birchwood Stick
100 Lint-Free Wipes
Three Placemats
Post Card from Natalie
Information Booklet
Collectible Gift Box and Sleeve
The Nail Swag Kit, Palm Sprung, is available for a limited time for $120 exclusively at http://www.NailSwag.com.
Follow Nail Swag on https://www.instagram.com/nail_swag/ and https://www.facebook.com/NailSwag for the latest news and nail designs.
About Nail Swag Products Inc:
Our mission with Nail Swag is to help you unlock your creativity with fun, modern nails you design yourself.
The Nail Swag kit delivers unlimited nail design options by combining more color choices and nail art than anything available in stores today. Each kit is designed by award-winning celebrity nail artist Natalie Minerva, who chooses the themes and contents based on things that inspire her in everyday life, as well as fashion and art.
From a day at the office to a night out with friends, Nail Swag is out to help you create manicures and pedicures that complement your personal style. The colors and design look books are created to match a full range of skin undertones and nail shapes. The nail art supplies included in the kit are beginner-friendly and expert-endorsed. Nail Swag is headquartered in Venice, CA, with its flagship Design Lab studio located in the heart of Downtown LA.
About Natalie Minerva and the Nail Swag Design Lab:
Natalie Minerva is a California native living in Los Angeles. Nail art started out as a hobby for Natalie. She loved trying to master the tedious, but intricate details of nail designs. Out of her hobby, Nail Swag was born.
In 2016, Natalie opened the Nail Swag Design Lab, a nail art studio in Downtown Los Angeles that specializes in free-hand nail designs and nail art innovation. Natalie along with her group of amazing artists were voted "Best Nail Art Salon in Los Angeles" by LA Weekly's 2016 "Best of" Awards. Nail Swag artists specialize in creating fashion-forward nail designs and love using unusual or unexpected materials to create effortlessly cool looks. Over the years, Natalie has had the opportunity to work on editorials and music videos for celebrities from all over the world.
Media Contact:
Lisa Elkan, Lisa PR
LisaElkanPR(at)gmail(dot)com
(818) 326-0285